Novelties for the safety and aesthetics of pool covers
Aqua Cover, the Belgian manufacturer of automatic pool covers presents its novelties for the safety and aesthetics of pool covers. The manufacturer of automatic swimming pool covers behind the Aqua Cover® Premium, Aqua Cover® Light, Aqua Cover® Box and Aqua Cover Exterior motors. Aqua Cover showcases its new products at the aquanale trade show.
The new generation safety system for automatic pool covers
The Cover Lock EVO II automatic pool cover security system has been redesigned to adapt to high water levels. The new generation of this safety device for Aqua Cover products lets you lock and unlock it automatically from a key switch, while automatically opening the pool shutter. An indicator light tells users whether their cover is locked or unlocked.
This safety system for automatic pool covers is certified by the Pourquery laboratories in accordance with standard NF P 90-308:2013. This innovative system offers the pool shutter owner ease of use and safety, whether it is for a renovation or a new build. Furthermore, the material used, 316L stainless steel, ensures that the system lasts and fits stylishly into the swimming pool.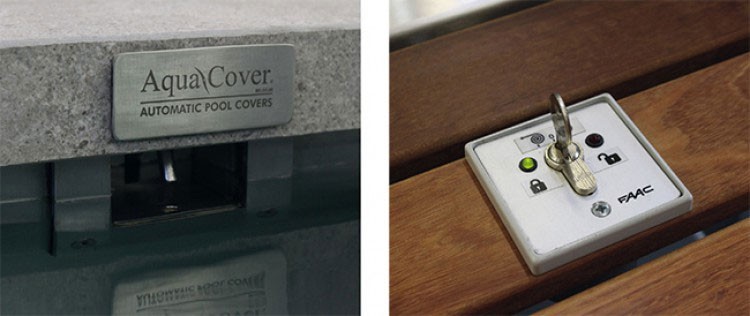 Safety system for automatic pool cover Cover Lock EVO II
To cover the large pools: the double automatic swimming pool shutter
The manufacturer of automatic swimming pool covers also has another novelty: the double pool shutter on a single mechanism. This double pool shutter designed for large pools is controlled by an electronic unit from the Easy range. The BUTTERFLY COVER is located at the bottom of the pool and is almost invisible. It emerges from its compartment with a valve that opens automatically at the closing signal of the pool cover. When open, the double shutter returns to its compartment and leaves space for all of the swimming area.
This 316L stainless steel system has been developed and built in the workshops of the Belgian manufacturer automatic pool covers Aqua Cover, thanks to the expertise of its design office and technical service.