ALLIANCE PISCINES is launching the latest model of a new generation flat-bottomed swimming pool, 1.45 m deep, available in 3 sizes: 6.60 x 4 m, 7.60 x 4 m, and 8.60 x 4 m. GALAXITE has a resolutely user-friendly design, with its spacious submerged beach!

Its shape allows the little ones to play ball while the bigger ones dive. The safety step at a depth of 70 cm along the perimeter of the pool allows children above 5 years to go around the pool easily.
The Galaxite is accessible by either of its two wide stairs, ideally placed on both sides of the tanning bench.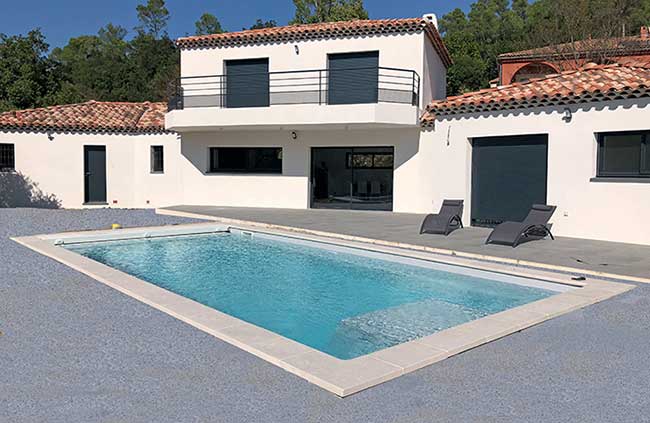 Galaxite
Its concept and design is that of a pool with walls that are more vertical. As such, they offer a larger bathing area, where the submerged, slatted Easy'cov or Cover in can easily be integrated.
Available since April, and very successful among distributors of the network, it promises to be one of the best-sellers of the brand.

Cobalt, the pool for small plots
To meet the demand of owners of small plots, Alliance Piscines launched its "urban pools" in June, in three sizes, and a very trendy design. Rectangular and flat-bottomed (1.46 m), Cobalt is available in 8 x 3.5 m / 7 x 3 m and 6 x 3 m.
A sleek design, straight lines and a stair with 4 steps across the width of the pool. It comes with a variable speed pump and an element filter that conforms to the expectations of the pool of tomorrow.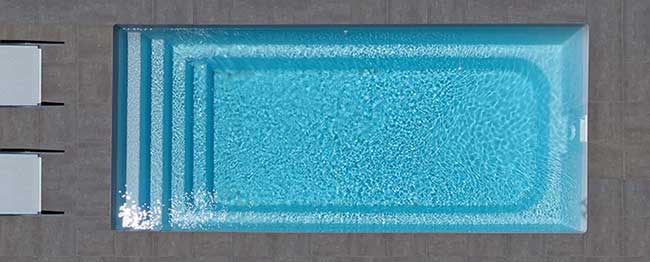 Cobalt
KRONO : The shell-pool for small budgets
"A pool in record time ... go Krono!" - that is how one could summarise Léa Composites' new offer for small budgets. This new monocoque pool completes the already well-rounded range from Alliance Piscines.
The launch, along with an excellent series of marketing and instructive visuals on a dedicated site, took place in June.
They are available in 3 sizes: 8 x 3.5 m, 7 x 3 m and 6 x 3 m, all with a flat bottom.
With its kit concept the pool can be quickly and easily installed in four days, requiring only two people to do so.
The filtration is factory-installed and comes in the form of a cartridge filter block with an integrated skimmer. In white, blue, sand or grey, the Krono is sleek and streamlined, with a very trendy 4-step ladder along the pool width.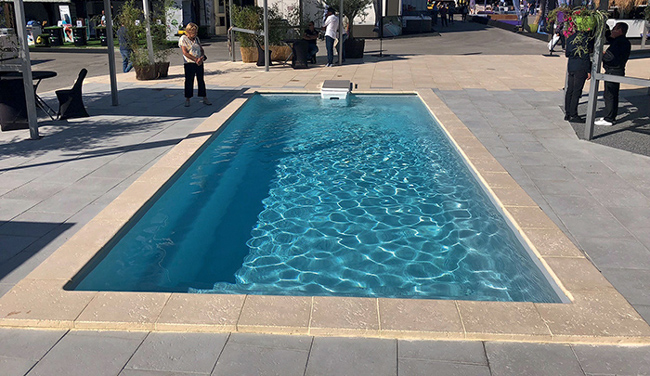 Krono

This new offer is technically well studied and is accompanied by a competitive financing formula. It also allows professionals to build pools even when their order books are already well filled.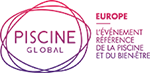 To be discovered at Piscine Global Europe in Lyon
www.piscine-global-europe.com