The number one European manufacturer of polyester shell swimming pools, with a production of 8,500 pools this year, Léa Composites is attending the trade fair in Cologne, at stand F080, with its brand Alliance Piscines.
Alliance Piscines at the trade fair in Cologne
A new German-speaking Export Manager and sales tools
The French group in fact hopes to expand its presence on the European market, specifically in Germany. The recruitment of a new German-speaking Export Manager has already enabled the group to open 25 export stores.
The range of Alliance Piscines shells, which comprises over 80 different models, has in fact roused a great deal of interest among swimming pool specialists in Germany. Indeed, they appreciate the extensive range of models to choose from, as well as the minimal manufacturing time frames - thanks to 7 manufacturing factories located in France - and the transport provided by an impressive fleet of crane trucks comprising 55 units integrated into the group.
A number of other strengths have won over German swimming pool professionals, including the responsive after-sales service, along with the sales tools which have been fine-tuned specifically for the German market: swimming pool catalogues, installation and maintenance manuals, as well as ancillary equipment catalogues (heat pumps, safety covers, shutters, automatic water treatment systems, filtration systems, ...) made by the major players on the swimming pool market. To equip their new pool, German dealers can therefore offer their customers an exhaustive offering.
The Alliance Piscines brand also offers them sales training sessions, in order to help and assist them in marketing products to their clients.
The City mini pool
The Léa Composites group regularly develops new shell models, to meet the growing new demands of the dynamic swimming pool market. 2021 thus saw the launch of the City mini pool, to fill the growing gap of small city swimming pools.
New for 2021, this mini pool measures less than 10 m² and incorporates an underwater rolling shutter. Although compact in size, it is completely optimised, allowing users to enjoy bathing to the full, in a depth voluntarily limited to 1.42 m, in other words a water depth of 1.30 m. This high-end model incorporates some distinctive components:
Skimmer with 12.5 m3/h filtering element, requiring no additional filters. This innovative and eco-friendly filtration system makes it possible to have a compact machine room that takes up very little space, a real gem for confined spaces.
The hydraulics are designed to optimise the mixing of the volume of water in the pool, further improving filtration.
The pool is accessed by steps which double up as a spacious relaxation seat.
2 mini LED colour spotlights are discretely recessed into the pool to light it up at night.
A Cover'In underwater shutter is incorporated into the pool, offering a stylish safety solution (NF P 90-308), with minimal space requirements.
The City pool owners will also be able to order an optional swim jet, heat pump, salt chlorinator, pH regulation and a pool cleaner.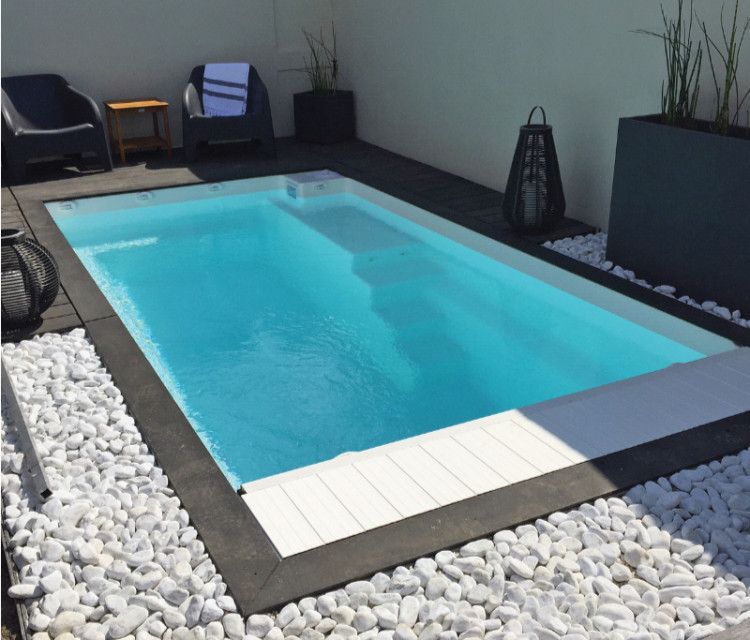 The City pool of Alliance Piscines