The eXact iDip® Professional Test Kit is the latest generation test kit that combines two state of the art water quality test instruments.

The first is the Level 1 NSF/ANSI-50 Certified eXact iDip® Smart Photometer System which integrates patented 2-way wireless communication with any compatible iOS or Android smart device and has the potential to test over 40 water parameters.
The second is the NEW eXact® pH+ Smart Meter system which capitalizes on electrochemistry technology combined with Bluetooth connectivity.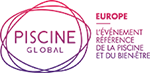 To be discovered at Piscine Global Europe in Lyon
www.piscine-global-europe.com