After the launch of the T-multifunction 250g tablets this same year, CF Group is launching three new products in its Chemoform line.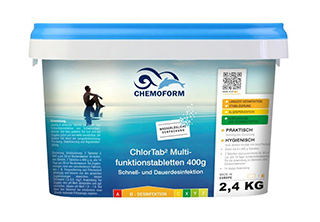 The ChlorTab2 Multifunction 400g is the new "all-in-one" solution, composed of two layers. The outer layer dissolves quickly to provide a shock disinfection of the pool and the filter, flocculation of particles and clarification of the water, the inner layer guarantees a long lasting disinfection and stabilization and prevents from algae formation.
The ChlorTab² Multifunction 400g thus provides the treatment of pools in excess of 30m3 in a single step.
Another novelty is the ChemoclorT 125g, which is ideal for the permanent disinfection for 15 to 30m³ pools. This new tablet can be used with all filter types (sand or cartridge) and completes the product line of 20g tablets and 200g tablets.
Finally, the ChemoclorT 70g is the ideal solution to simplify the shock treatment of intermediate sized pools. This new format makes it easier to apply shock treatments. This tablet completes the existing product line of tab (20g) and tablet (200g) formats.

In order to improve the customer experience, the ChlorTab² Multifunction 400g tablets and the ChemoclorT 125g tablets are wrapped in a hydro-soluble film that avoids contact with the hands and limits odours. These three new products are also available in a square tub of 2,4 kg (ChlorTab2 Multifonctions 400g), 2,45 kg (ChemoclorT 70g) or 2,5 kg (ChemoclorT 125g).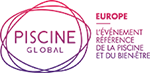 To be discovered at Piscine Global Europe in Lyon
www.piscine-global-europe.com