With over 30 years of experience, and installations in over 20 countries, PoolLock is one of the world's leading manufacturers and suppliers of automatic safety and slatted covers for swimming pools.
Following extensive research and testing over the past two years in the UK and Scandinavia, this year the manufacturer introduces its new HeatLock Thermofoam canvas with enhanced insulation properties.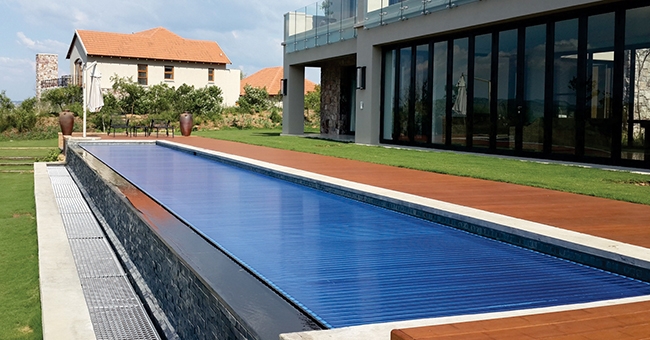 Thanks to the foamed insulation layer applied to one side of the canvas, heat transfer across the membrane is reduced by a factor of 3 when compared to standard fabrics for similar applications. HeatLock's closed-cell foam structure ensures the safety of PoolLock covers, as well as energy savings.

The company's own hydraulic drive system avoids any need for electrical components near the pool. The electrical power pack used to operate the cover and drive the two hydraulic motors can be placed as far from the pool as required. Opening and closing the pool is as easy as turning a key switch, which means that the cover (and the pool) are actually used once installed.

The manufacturer's safety covers provide a solid barrier between the water and surrounding area, effectively preventing any access to the water. In addition, these covers reduce the evaporative loss of heat, water and chemicals, which means that pool owners can save money on electricity and chemical usage.