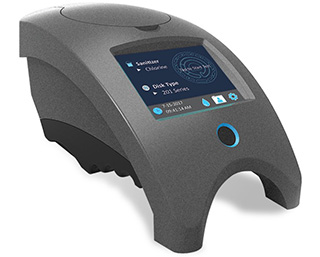 The WaterLink SpinTouch is the innovative 6 wavelength photometer from LaMotte that has revolutionised the testing of pool and spa water.
The genius lies in the disk; produced in a clean room environment, freeze dried reagents are added to the disk and react with the water sample when inserted into the SpinTouch and rotated at high speeds. After just 30 seconds for a 3-parameter test (FCL, TCL and pH) and 60 seconds for a full suite of 10 parameters, the results are displayed on screen in ppm.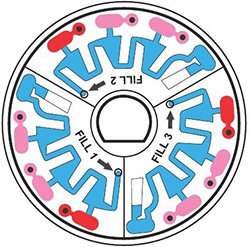 Disk for reagents

For service technicians, the photometer is used poolside to monitor and thereby correctly treat the pool.
For pool operators, the 3-use disk is used to test free chlorine, total chlorine and pH up to 3 times in a day, with all results automatically stored on the device.
Retail professionals can use it in store to test customer's water samples and can connect to software to generate a dosing report.

This device is the quickest, simplest way to accurately test pool and spa water.