The Hydroflex 150/100 reinforced coatings, marketed by APF, were launched 6 years ago and have since been successful for both construction and renovation of private pools.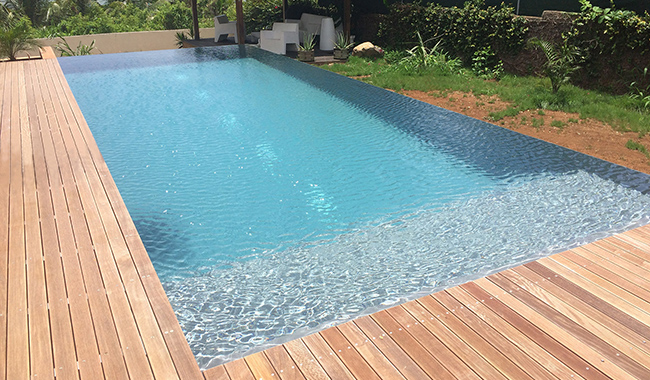 Hydroflex Relief Reflexion anthracite grey
This range has so far been available in 2 finishes, plain colour (standard grade) and varnish plain colour (higher grade). The former has a 10-year warranty on impermeability and temperatures up to 32° C, the latter has a guarantee of up to 33° C, 10 years on impermeability and 4 years against stains.
Hydroflex is available in the above finishes in 8 colours: white, pale blue, French blue, light grey, anthracite, sand, Caribbean green and olive, and are also available in non-skid.

In order to respond to the trend in embossed coatings, the company is launching the Hydroflex Relief range, with embossed motifs. A diamond effect with the Réflexion model that makes the water glimmer (grey or anthracite grey), the Mosaïque model with a texture that closely imitates mosaic (white, pale grey, or anthracite grey), and also Sable, for a pool that looks like an exotic beach.

This reinforced coating is ideal for renovating a swimming pool, for very large ponds, stairs having more than 4 steps, infinity pools, or free-form pools.

Besides these aesthetic options, this new range still offers the properties of APF's reinforced PVC, in particular, high resistance to tearing, distortion, aging and temperature.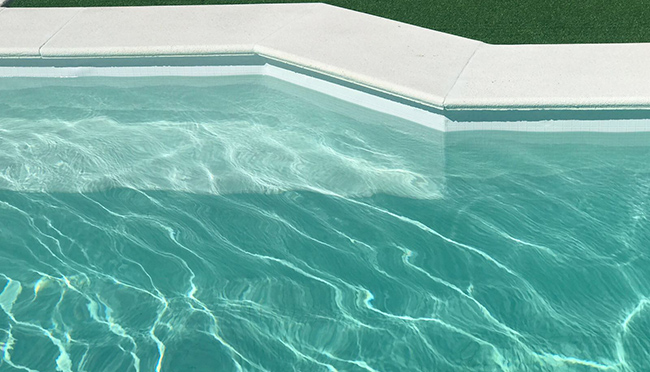 Hydroflex Relief White Mosaïque
The material is easy to cut, and the conditions for welding are appreciable - at medium speed and 550° C, low smoke emission and excellent resistance to charring.

Its ingenious packaging prevents damage to the rolls and facilitates transport. The rolls are 1.65 m or 2.05 m wide and 12.5 m long for the plain models in order to optimise work on the building sites.

More than 50,000 m² of stock is available in the logistics platform.