The BINDER HydroStar swim turbine allows endurance training in the pool without having to turn around. The motivation that led to the development of this system came from a customer of a specialist in swimming installations who had never succeeded in finding a counter-current swimming system that met its high performance requirements.

Most of the usual systems only allow a partial workout of the body and are not powerful enough for ambitious swimmers. The HydroStar system, however, generates a wide and powerful current, thus offering ideal conditions for effective training.
It is available in six power levels and can be controlled with a remote control, a piezo switch or using an optional touch screen.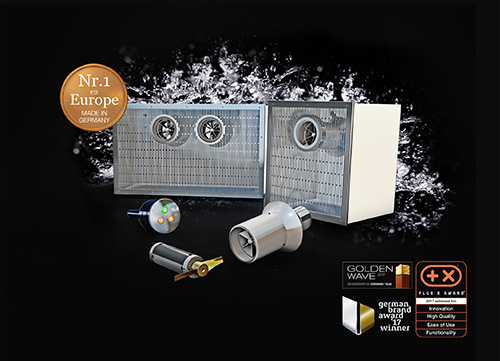 HydroStar integrates easily into pools made of various materials. For retrofitting, BINDER offers a modern suspended system that blends discreetly into its environment.
The energy consumed by the turbine is the equivalent of only 20 to 50% of the energy consumed by pump driven counter-current swimming systems. Since the brushless motor bearings are lubricated by water and no dry rooms are required, the system is maintenance-free.

For the distribution of HydroStar, the manufacturer is working with specialized dealers. "We are in direct contact with our dealers, so we are therefore close to our customers and we are able to respond to their wishes directly", says Siegfried Binder, Managing Director.
BINDER has received several prizes, among them the German Brand, Golden Wave and Plus X Awards, rewarding this marketing strategy and the unique technology of this turbine.

HydroStar is available in six power levels and with several options for user convenience.