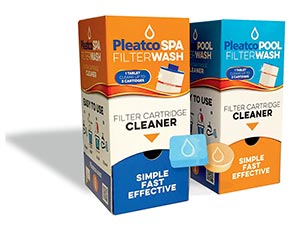 Pleatco, LLC, a leader in pool and spa filtration products has introduced Pleatco FilterWash™, a new fast acting fizz cleaning tablet specially formulated to penetrate deeply into any reusable filter cartridge and remove the accumulated materials such as suntan lotion, oils, grease, dirt, soap scum and other organics.

It comes in individual formulas – one for pools and one for spas, scientifically engineered for each environment, is environmentally friendly and requires no measuring and no messy chemicals.

"This is a natural extension to our replacement filter product range and we are excited to bring this new form of cartridge cleaning to the marketplace. We have made sure that the science and engineering of our new Pleatco FilterWash™ Cartridge Cleaning products are of the absolute highest quality and proud to once again raise the bar and set a new standard" says Howard Smith, CEO Pleatco.

Unlike most cleaners that are a chemical spray-on solution, this new product is a fizz tablet that is placed in a bucket of water and soaks the cartridge in the dirt releasing solution. After a short time, the cartridge can be safely removed and given a spray with the hose to clean off any excess debris.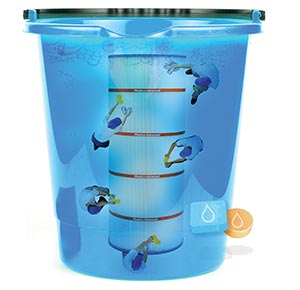 "The advantages of our formulas are two separate cleaning solutions specifically engineered for pool cartridges and for spa cartridges. The different environments collect different types of debris and oils and we have optimized the solutions for each case" say Richard Medina, SVP Engineering Pleatco. "And to clean up you can simply dispose of the solution without harm, and that's a major plus nowadays".

Each Pleatco FilterWash™ tablet cleans up to two filter cartridges and works by loosening debris from the filtration fabric simply and effectively while being safe and easy on the cartridge.
This thorough cleaning allows cartridges to return to a high level of original performance without harming the filter.