Jacuzzi Brands is pleased to announce the launch of a brand new Premium Swim Spa Brand: "SwimLife" with the Brand Promise "For an Extraordinary Life"!
The new brand is determined to improve the lives of consumers by providing in its swim spas leading edge technology, superior comfort, design, sizes and features to fit the needs of every family.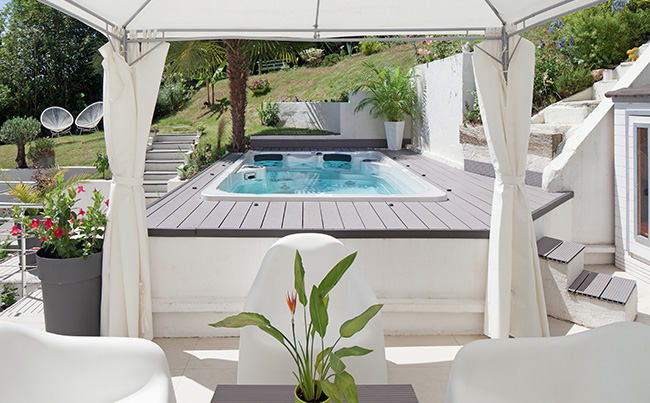 First, the AquaCurrent Jet Technology and the WaveRider Current Control produce among the widest and deepest swim currents in the industry.
Then, its proprietary "Circuit Training System" gives that full body workout that will challenge users at every level of fitness.
Three premium models will be launched in January 2018: Jet Stream (Mid-Size); Aqua Stream (Large Size) and Dual Stream (Dual Temperature Model).
In order to fit the needs of every user, the new line is proposed in two series of swim technology. The SwimPro Series is designed for advanced swimmers and training, featuring the "AquaCurrent Jet Technology" and "WaveRider Current Control". Whereas the SwimFit Series is aimed at everyday swimming and family fun, featuring the "SwimStream Jets" and "SwimFlex Current Control".

Jacuzzi Brands is a World Leader in Hot Tubs and Swim Spas and the Market Leader for Swim Spas in Europe.

The SwimLife Brand will be offered to Retailers across Europe, coming with a distinct brand, story, product line up and exceptional features for "Retailers to Sell" and "End Consumers to Enjoy".

To be discovered at aquanale in Cologne