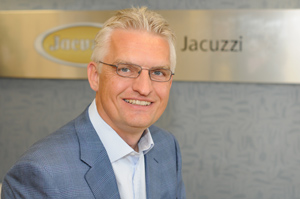 Jacuzzi Brands Corporation today announced that Peter Munk has been appointed as President of Global Spa as part of its continued strengthening of the Jacuzzi leadership structure. In this newly created role, Mr. Munk will focus his efforts on the growth of the spa business worldwide, to include sales and marketing, engineering and product development, and global operations.

Jacuzzi Brands Corp CEO Bob Rowan stated, "The appointment of a global leader of our Spa business demonstrates our continued commitment to drive growth worldwide and reflects the global opportunity we envision for this strategic business. We are committed to our ongoing investments in product innovation and reliability, and creative marketing programs to drive dealer sales and profitability. The business has seen a strong start to the 2013 season and with the appointment of Peter we are ready to bring global best practices in product, marketing and service to our dealer communities around the world."

Jacuzzi has made a number of growth driving investments in recent years. In 2011 Jacuzzi established a world class manufacturing facility and in 2012 Jacuzzi delivered outstanding sales growth while adding Thermospas to the brand portfolio. In 2013 Jacuzzi further consolidated its leadership position with the acquisition of Dimension One Spas.

Mr. Munk joined Jacuzzi in April 2011 as head of the Jacuzzi European business units. He has proven himself an outstanding leader, implementing a pan-European approach to leverage resources across all markets. Rowan commented, "Peter's emphasis on the growth of our European Spa business has resulted in outstanding results in an extremely difficult economic environment. His strong commercial background in dealing with all types of retailers and distribution in a variety of industries, combined with his experience in product development and branded consumer products make him the ideal person to fill this critical role."

Prior to joining Jacuzzi Mr. Munk was President and General Manager for ACCO Brands EMEA + Asia, VP Consumer Products Black & Decker Europe. Mr. Munk started his career with Colgate Palmolive in Scandinavia after studying Business and Economics in Denmark and the UK. He is a Danish national speaking several European languages and has worked in Denmark, Belgium, Germany and the UK. Peter and his wife Charlotte lives with their 3 children in Ascot, UK.