After the expansion of its production facilities at the beginning of the year following the success of its last product launch, Filtrinov is pursuing its reorganization. The company has just launched its new website, www.filtrinov.com, an on-line showcase of its filter blocks for swimming pools.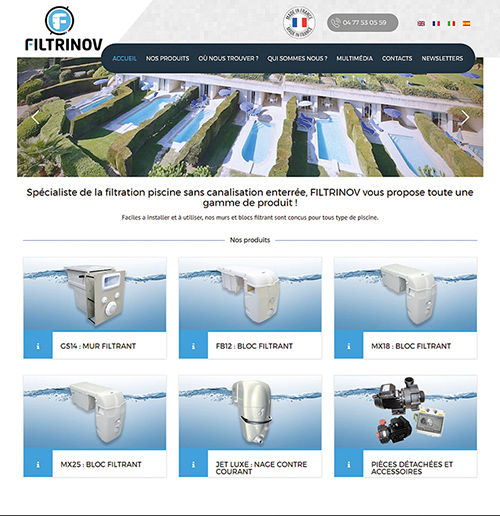 On the first page, stunning photos of some of the company's greatest achievements set the tone, with an overview of the private pools of the 21 apartments of the Mas d'Artigny & Spa in the French Riviera, all of which are now equipped with outboard filtration units from the French brand.
The site goes directly to the essentials from its entire range of filter blocks, counter-current swimming units, to spare parts and accessories, technical descriptions, numerous images and demo videos.
On the front line is the flagship product of the Saussac brothers: the GS14 filtration wall. Perfectly adapted to polystyrene block, shuttered concrete blocks or block-work pools, this compact filtration unit includes a 14 m3/h filtration pump with its control box, a removable filter cartridge with a leaf basket a large opening skimmer, 2 adjustable inlet jets, a LED colour projector with remote control and optional equipment (salt chlorinator, bypass). Its removable hood is fitted with a mechanical safety catch. This system, designed for both swimming pools under construction and under renovation, does not require a machine room or buried hydraulic network. It can be adapted to swimming pools of up to 8 x 4 meters and 1.50 meters deep.

The complete Filtrinov catalogue can be downloaded from the site.