The EC range is one of Bowman's most popular swimming pool heat exchangers due to their excellent heat transfer performance, durability and ease of installation into pool pipework, facilitated by their composite end covers and solvent weld connectors.

Bowman has now developed a new end cover assembly for its EC units, which simplifies installation and eliminates material waste.

Currently, EC heat exchangers are supplied with two alternative diameter connectors, enabling them to be installed into either imperial 1.5" (48mm O/D) or metric 50mm O/D pool pipework. This means that one of the connector sizes is always surplus to requirements, resulting in two composite components - per heat exchanger - invariably being thrown away.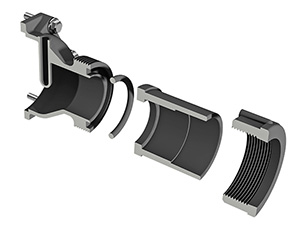 Bowman's new 'Universal Fit' end covers eliminate the need for separate connectors as they accommodate both imperial and metric pool pipework sizes in a single unit.

At the heart of the end cover assembly is a new 'socket union' that has been specially designed to take both 1.5" (48mm O/D) and 50mm O/D pool pipework, making installation simpler and quicker, whilst reducing waste material.

The heat exchanger is installed into the pools pipework in exactly the same way as the current model, using solvent weld to secure the pipes in the 'socket union' connector. External dimensions of the heat exchangers will remain unchanged, as the new 'Universal Fit' units are the same length and diameter as current units.
The new 'Universal Fit' end covers will be introduced during 2017 on all EC models.