For the international Piscine exhibition, SYCLOPE Electronique highlights its French-manufactured professional equipment for analysis, control and dosing, meant for water treatment.
Its 30 years of expertise allows it to offer a wide range of high-performance products adapted to the constraints of technical, normative and environmental standards for municipal and Olympic swimming pools, aquatic centres, hotels, campgrounds, spas, thalasso therapy centres, private pools, etc.

The company affirms that it is the only one at the exhibition this year to present an ultrafiltration unit manufactured in France.
This unit is intended for recycling water during backwashing of filters, thus optimizing the operating costs of public swimming pools.

SYCLOPE also rounded off its "public pool" range with a salt chlorinator for the production of chlorine on site: an economical, turnkey installation with low running costs, and no handling of chlorinated products.

In addition, it will present the new probes for measuring turbidity, conductivity, ozone, etc.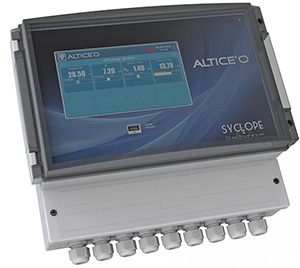 But the spotlight will be focused especially on the ALTICE'O®, its new analyser/controller, unveiled at a preview at Lyon in the Piscine Innovations section which will be marketed from January 2017.
It consists of a connected device to analyse and constantly regulate a number of physical and chemical water parameters: temperature, pH, active, free and total chlorine, chloramines, ORP, free bromine, BCDMH, DBDMH, ozone, chlorine stabilizer, turbidity, conductivity, salinity, flow measurement...!
All this information is displayed on a large 7'' touch screen with an intuitive menu.

This analyser/controller uses Bluetooth connectivity for smartphones or tablets. In addition, it has a USB port for uploading data history and complete programming.
The ALTICE'O® is also able to simultaneously control several pools of all sizes. For public pools, it is simply the ideal tool for optimising the management of chloramines, water intake and energy and chemical consumption! Save time and money!

To be discovered at PISCINE GLOBAL 2016 in LYON
Stand 6D92