POOLSTAR is innovating again with the new INOBIKE7, the aquabike with adjustable speeds!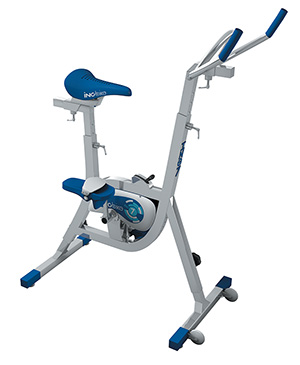 It has a dual propeller system engaged by the 3-speed shift that is used to regulate resistance and customise training.
The Waterflex brand is launching a range of 3 Premium aquabikes for the most demanding customers: the INOBIKEs.

Designed to provide a more sporting fitness regime and above all an experience that is more suited to everyone's needs, this new aquabike therefore provides the user with 3 levels of resistance.

• You do not want any resistance: shift to neutral position (0), you only have the inherent resistance from the pedal.

• You change to speed 1: the small propeller provides enough resistance for a great warm up.

• You change to speed 2: the two propellers now run simultaneously to maximise resistance and work on your muscle tone.

This new highly intuitive hydraulic system has been specially designed to increase user sensation and improve performance during training.

Changeable in the blink of an eye from the seated position, the user saves time during classes or session meetings at home.

Besides competitive pricing, the major advantages of INOBIKE 7 are: rapid draining (3 seconds), specially designed ergonomics to prevent all joint and spinal constraints, and an Aquaspeed pedal for comfortable use barefoot.