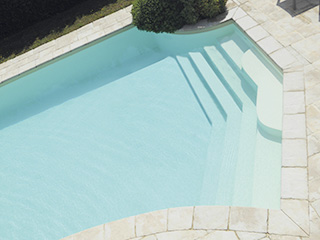 APF, the specialist in pool liners, presents its 150/100 reinforced PVC HYDROFLEX brand, meant for the construction and renovation of private pools.
This 150/100 waterproofing membrane is composed of a high strength polyester mesh between two high-performance 75/100 PVC sheets.

This advanced technology, manufactured in Europe, integrates antifungal, anti-UV and antibacterial additives. The membrane resists not only to tearing over its lifespan, thanks to its design, but also to warping, aging and temperature variations. The membrane is produced in accordance with the AFNOR NF T 54-803-2 standard and with the AFNOR NF T 54-804 standard for installation and maintenance.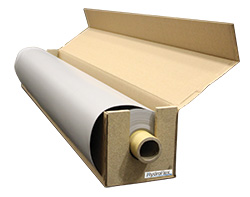 It has proven its worth for over 4 years in the market, recognized for its ease of installation in all types of pools and excellent value for money. Its easy cutting and welding features at a temperature of 550° C with little smoke and excellent resistance to carbonisation, appeal to professionals when constructing and also renovating pools. In addition, the packaging has been carefully conceived to facilitate transport and installation on site.

Available in widths of 1.65 m and 2.05 m, APF also offers HYDROFLEX in reels of 12.5 m to optimize work on your sites.

This membrane is available in two versions.
HYDROFLEX Uni 150/100 standard grade, has a guarantee of 10 years on water-resistance and temperatures of up to 32° C.
The high-grade HYDROFLEX Uni varnished 150/100 offers a 10-year guarantee on water-resistance for temperatures of up to 33° C and a stain-resistance guarantee of 4 years. The additional glaze that is applied on the waterside limits water absorption and hence the formation of creases.

Hydroflex is available in colours in line with current trends: white, pale blue, French blue, grey, anthracite, sand, Caribbean green and olive, and are also available in non-slip versions.
APF has a stock of over 50,000 m² readily available through its new logistics base.