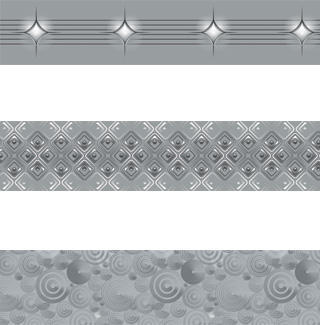 From top to bottom : frieze bands Music,
Seventies and Swirls
ANNONAY PRODUCTIONS FRANCE offers 3 new exclusive frieze bands, with original motifs such as: Music, Seventies and Swirls, that match the four following solid-colour liners: White, Light Grey, Anthracite Grey and Black.
All the frieze designs can be viewed online on the APF website with a 3D chart and the largest selection of solid colours, prints and frieze bands available in the European market.
The chart allows professionals to visualize and match the friezes and liners directly with their clients and decide on which combination to choose.

Solid-colour liners : White, Light Grey, Anthracite Grey and Black