BIO-UV is the only manufacturer approved by the Ministry of Health since 2004 to de-chlorinate water with the help of medium- and low-pressure UV lamps. Its devices have been authorised for public pool equipment, subject to ARS controls.
In almost all countries, chlorine is obligatory as a disinfectant for public swimming pools and spas, but it generates chloramines, which are harmful for the users and the body.

In 2003 BIO-UV developed and patented specific ranges of UV treatment for de-chlorinating pools and spas in hotels, camping sites, fitness centres, spas, and others.
Chloramines, or combined chlorine is responsible for respiratory ailments and eye irritation experienced by lifeguards, sports swimmers, baby swimmers etc.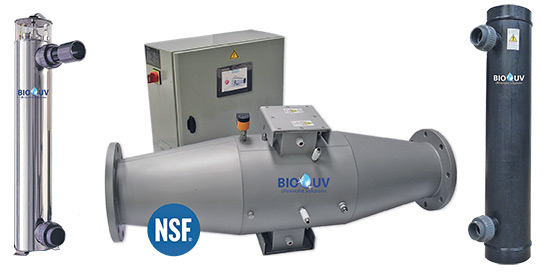 In addition to being the first company approved by the Ministry of Health for medium pressure (MP) de-chlorination, it has also been approved for low-pressure (LP & UV HO) since 2013.
BIO-UV is therefore now the only manufacturer to be certified for its two medium and low-pressure ranges. All the ranges are certified NSF 50. Their gauged performance exceeds the requirements of this standard, allowing optimal disinfection effectiveness for reducing microorganisms.

To be discovered at PISCINE 2014 in LYON, Stand 4F33