Combipool is an automatic 2 in 1 system, by BIO-UV, which associates injection of disinfectant and pH regulation based on 3 parameters (volume of the tank, temperature and pH of the water). He allows adjusting without manipulation the injection of products (active oxygen, liquid chlorine…) and pH regulation. No more overconsumption!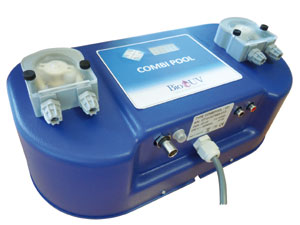 This system is easily integrated into the circuit of filtration of the basin. With
proportional control of pH
, it maintains a precise threshold of instruction and avoids the overdoses. For optimum safety, the regulation shall cease when the sensor detects that a pH level is too far from the set point. The probes and the injection tube are located in
one sleeve "4 in 1"
. It is delivered with a pH probe, a temperature probe, a fixation kit, a kit of pH4 and pH7 solutions, 2 injection valves, and 2 suction strainers.
Simple
: it adjusts without any manipulation the injection of disinfectant and pH control.
Economic:
it measures the parameters of the pool (temperature, pH) and injects the optimal quantities of products.
Easy to install:
all the accessories for starting are supplied with the unit.
Sure:
thanks to the proportional regulation of the pH, it maintains a precise threshold of instruction and avoids any overdoses of products.
Whatever the volume of the swimming pool,
Combipool
automatically adjusts the
BIO-UV
protocol
. It is already attached to the
BIO-UV
device
. No need to connect the filter box!

Technical Specifications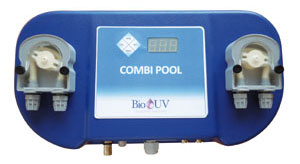 Dimensions: 215x180x130 mm
Power supply: 230 V - 50 Hz
Power: 10 W
Fuse
Electronic card: 315 mA
UV reactor: 2.5 mA
Protection factor: IP 54
Dosing Pumps flows: 1.4 liter / hour
Output pressure dosing pumps: 1.0 bar Max
Supplied
Parts
- Combipool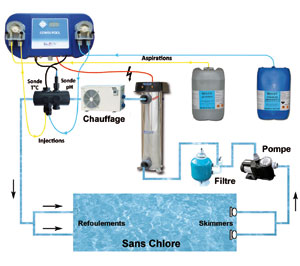 - PH probe
- Temperature probe
- Sleeve "4 in 1" (diameter 63 mm)
- PH probe holder
- Injection valve (x2)
- Suction Strainers (x2)
- Suction / injection Tube (x2)
- Fixing kit
- Solutions pH4 and pH7 Kit
- Accessory carrier Cap
- UV Connector
Visit BIO-UV in Lyon from 16th to 19th November 2010 (Hall 6 - Stand 6F33).