Aqua Cover, the Belgian manufacturer of pool covers for almost 20 years, offers an extensive selection of automatic covers.

With its "Aqua Cover Premium" range, the company offers automatic covers equipped with mechanical limit sensor switches (IP 68). The motor housing carries an exclusive 10-year guarantee against leaks.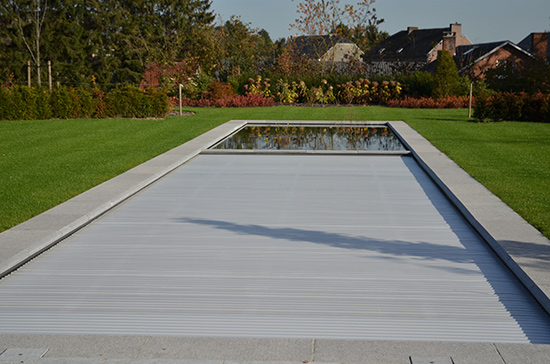 In its "Aqua Cover Light" range, the company offers a solution for customers looking for a more economical and simplified electronical system, yet having all the qualities and the reliability of an Aqua Cover product. The only difference between the "Premium" and "Light" systems is that the "Light" range is equipped with electronic limit sensor switches.

Aqua Cover also offers automatic covers for aboveground pools - the "Aqua Cover Exterior" range. These are available either with or without IPE wood or PVC protection.

Pool builders looking for a non-automatic safety cover (ribbed tarpaulins) are sure to find their answer in the "Aqua Cover 4 Season" range.

You can also see the various systems and PVC and polycarbonate blades available at the Aqua Cover site.