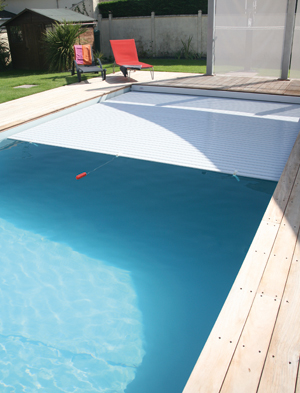 No Stress from Abriblue is a submerged cover that can be fitted on nearly all new or existing pools, fitted with a disengageable motor in the spindle. Highly practical, it features a visual travel end system, making it easier for the user to control the movement.
Designed to NF P90-308 standards, it combines functionality, reliability and safety, without any compromise in quality, resulting in a highly competitive product.
The model is suitable for pools ranging from 3 x 3 m to 5 x 10 m and, in addition to the range of colours already available, the panel can be made from new polycarbonate slats (in blue or black).
As well as resisting extreme weather conditions, these slats have high mechanical resistance to impact and capture the energy of the sun.
The No Stress cover benefits from the exclusive Non'Co Abriblue 15-year guarantee.