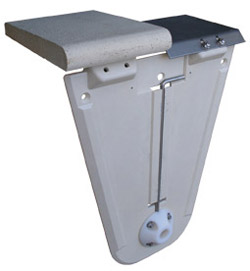 Abriblue
is the European leader in the field of swimming-pool cover. It has concentrated on the research of special high-tech materials that are completely resistant to corrosion.
The manufacturer has called upon
CETIM
*(Centre Technique des Industries Mécaniques) in order to validate its research and provide it its guarantee.
Tests conducted on many swimming-pools over a period of several years have helped in checking the exactness of expected performances and excellent long-term characteristics.
Thus, the rust-proof guarantee of 5 years came into existence on 1st March 2008:
Non'Co.

The whole range of Non'Co shutters is marketed without any extra price.