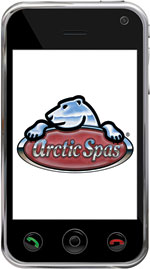 A new, free application enabling you to control your hot tub using a smartphone has been launched by Canadian manufacturer Arctic Spas.

Called ONSpa, the application enables you to remotely control pumps, jets, lighting, water treatment and many other features of the spa. The app is available for the iPhone, BlackBerry and Android devices, and Arctic says it is developing new features that will be added free of charge as automatic updates in the future.

Arctic also says that its engineers will soon be able to use the app to connect to your hot tub remotely to diagnose and troubleshoot any issues. Other possible uses include connecting to your spa as you leave work to increase the sanitiser and instigate a filtration cycle, so it is ready to go when you arrive home.

ONSpa also allows you to stream music play-lists wirelessly from your smartphone to the spa's music system using Bluetooth, and it even comes with a watertight case to protect your phone.