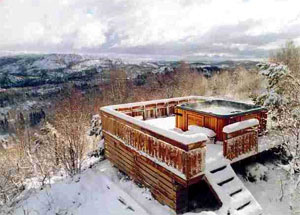 Arctic Spas® was founded in 1994 by Canadians. Spas Arctic are manufactured in Canada, by Blue Falls Manufacturing Limited, with world-class construction techniques. They are designed to perform in the severe northern elements.


The only self-supporting shell

Multiple layers of hand rolled, filler-free fibreglass create a lifetime-guaranteed shell capable of supporting several tons of water and people, without the need for additional support. The cast acrylic finish also features MicrobanTM to prevent any growth of bacteria, mould or mildew on the hot tub surface.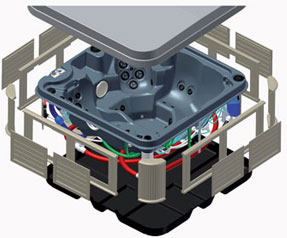 Arctic spas plan
HeatLock® perimeter insulation
The full perimeter of the cabinet is insulated, but the shell is unsprayed to allow the transfer of heat. The system uses all the heat produced by the equipment to help heat the water. Equipment noise is also reduced as the perimeter insulation acts as a noise barrier.
A total access

Insulated removable access panels on all sides of the spas allow an easy and affordable repair: just by removing a panel, performing the repair and replacing it.

Forever Floor®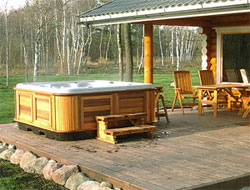 Composed of SMC fibreglass composites, this floor is impervious to moisture and pests. It completely eliminates the need for foundation materials like concrete, decking or blocks!

Castcore® Mylovac Cover: the strength of this cover is unsurpassed, as it is capable of supporting several tons of water and people, without the need for additional support. The insulating baffle between the two halves prevents heat loss through the centre seam.

White Water Motor: from an innovative externally-cooled and closed-body design, Arctic Spas motor is completely sealed against water and dust. Each White Water Motor is capable of delivering 270 gallons per minute of flow at 4 horsepower.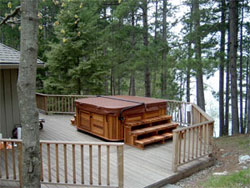 Tru-GuardTM: it uses the latest in heating technology to maximize efficiency and reliability. It is sealed from water exposure and its patented coating prevents the build-up of minerals and shields against element corrosion.

Bearing-less rotating jets : patented bearing-less design minimizes wear and contact points resulting in jets, inconvenience of the classic ones. The water flow can be controlled by the diverter.

This spas range features many equipments of comfort, such as the removable and pivoting pillow, which doesnt absorb water at all, the Therapy Air (more bubbles than with water jets), the Northern Lights package, to get a coloured atmosphere (can provide up to 73 points of light), several sound Systems and very ergonomic seats fitting the contours of the body. All Arctic spas are available in 10 shell colours, among which some are textured.