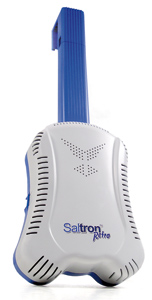 A
quatron introduces the Saltron Retro, an innovative portable salt chlorine generator which requires almost no installation and is designed to sanitize directly in the pool. The system is completely independent and does not rely on the main pump system to function.

It comes equipped with a unique power supply and a state of the art cell housing which mounts to the side of the pool: it generates chlorine as soon as the power supply is plugged into the power receptacle. This new product includes a number of features including reverse polarity and a control system with chlorine timer.

The removable cell is made of commercial grade titanium plates which are very easily accessible for maintenance. Saltron Retro is suitable for above ground and in-ground applications: it is equipped with mounting brackets for both applications.