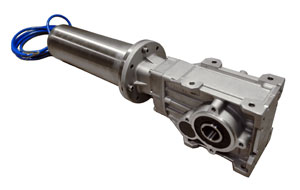 The company Ocea Aqua Technology has consistently pushed the development of cover technology year on year. This year it introduces a brand new evolution: a brand new line of hybrid motors.
After being one of the first companies to develop its own in roller motor, it has now used this proven waterproofing technology to develop a hybrid motor.
This one is designed to be installed in a dry motor pit so there is still an easy access to maintenance of the motor without having to get in the swimming pool. Even in the case the cover pit would be temporarily flooded due to flash flooding or a failed submersible pump, the motor will easily survive!