Two new spas were added to the
ComfortCLUB
Spa series from Czech manufacturer
USSPA
: the
Arena and Polo models
which feature elegant lines with pure lines and are bordered with an overflow channel. They have a wide application range: they can offer relaxation as well as entertainment to hotel guests or even to public swimming pool visitors.
Though the interiors of both spas are designed modestly, they offer perfect comfort. The inventive layout of the nozzles in a spiral provides massage of the entire back - you simply move around. In addition, for all models the action of the water and air massage is combined, and even foot massage is provided.
The large model, the
Arena oval
, has a high capacity: it accommodates comfortably up to 12 persons at a time. Both models are suitable for facilities with a high number of visitors per day, including public pools and swimming pools. Thanks to its high capacity, Arena is the ideal choice where the demand is intermittent, for example for sport teams where relaxation proceeds after training or after a match.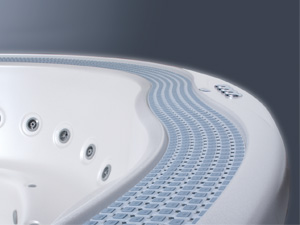 The integral offer of the
ComfortCLUB Spa
series can satisfy all commercial facilities - from hotels, sport clubs and enclosed wellness facilities to spa facilities and public swimming pools. Their parameters comply with stringent standards.