Fiberweb® Filtration introduces the next generation of Reemay® filtration media utilizing Microban® technology.
It is one of the most advanced filtration media available for inhibiting the growth of bacteria that can cause fouling and odor in pool and spa filter cartridges. This filtration media has been the standard of the industry for decades due to its performance and reliability.

Reemay with Microban antimicrobial product protection is constructed of continuous, bicomponent fibers.
These fibers are engineered with an inner core for strength and an outer sheath that incorporates the active antimicrobial compound.
Microban technology is
incorporated directly into the outer sheath of every single fiber during the manufacturing process.
This construction also eliminates any chance of foaming and ensures consistent performance of this technology throughout the life of the cartridge.
The product is constructed of continuous, trilobal spunbond fibers made of 100 percent polyester; there are
no acrylics, binders or glue that can weaken and dissolve during use or cleaning
. This process produces a rigid fabric that readily accepts and holds sharp pleats providing excellent column strength.
The trilobal shape of the fibers maximizes the filtration surface area and the continuous filament construction results in unsurpassed cleanability and durability.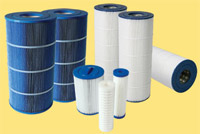 When microbes come in contact with the product surface, it penetrates the cell wall of the microorganism and disrupts cell functions, making the microorganism unable to function, grow and reproduce.
This technology has undergone
extensive independent laboratory testing
, has a long history of safe use and it is registered with the EPA for all applications in which it is used.