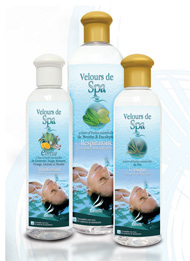 "Velours de Spa" of Camylle is a range of eight essential oils based fragrances designed for perfecting the moments of relaxation passed in a spa.

From now on, Camylle offers a pack containing a
display
container of 28 bottles of 250ml, or 4 bottles of 7 fragrances to swimming-pool and spa professionals.
Posters
are also available to highlight the well-being dimension of spa with the swimming-pool professionals.
In fact, many professionals have notoriously increased their hardware sales by emphasizing on the well-being dimension and aromatherapy and not just on the technical aspects of their spa-brand.