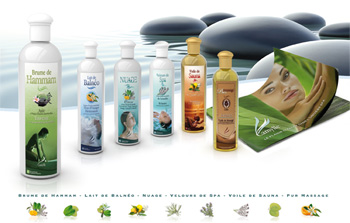 The craze for Jacuzzis, spas, saunas and hammams among private individuals is growing. To find sound advice on the products that one should use for such equipment, they naturally turn to professional pool builders.
The latter have thus gradually become the main interlocutors and distributors of Camylle products to the general public.
Composed of 100% pure and natural essential oils, the emulsions, milks soluble in water, massage oils and other preparations with rich olfactory and therapeutic properties from Camylle Laboratories have acquired a certain reputation among well-being professionals.
The wide range of combinations of Camylle fragrances offers care products for the body and mind - some that are appropriate for the spa, some to mix with the steam of the sauna, to the purifying mist of the hammam, to affusion showers, massage oils, or to diffuse in the atmosphere with the Bamboo ultrasonic diffusers.
The undeniable quality of these oils makes them an indisputable reference in well-being centres and among home users.