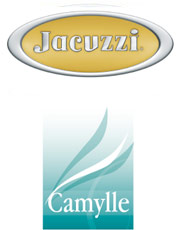 Jacuzzi, the world leader in whirlpool bathtubs, has chosen to partner with
Camylle for its aromatherapy products.
With over 30 years of experience, the Camylle laboratories have specialized in processing 100% pure and natural essential oils, to facilitate their use in saunas, hammams, balneotherapy baths or spas.
The spa is a treatment in itself, and as such, spa baths need to be enriched with active ingredients to make them even more enjoyable and intensify their benefits.
In this case, Jacuzzi has chosen Velvet Spa, a collection that allows one to enjoy a real bath with pure and natural essential oils, and also take into consideration the constraints specific to a spa.

The Velours de Spa products are non-lathering and liquid, based on natural essential oils that do not interact adversely with (existing??) disinfection systems and are poured directly into the spa water.

7 perfumes available in bottles of 250 ml.:
- Rosemary: Invigorating, with a warm and fiery tang;
- Cajeput-Lemon: Stimulating, with a fresh and fruity aroma;
- Eucalyptus-Mint: Refreshing, a fresh and stimulating aroma;
- Lavender: Relaxing, an aroma that is fresh and soothing;
- Pine: Tonic, with a fresh and spicy aroma;
- Luxe: Energizing, an aroma that is fresh and captivating (eucalyptus, mint, guiac, cajeput, caryophyllene);
- Elinia: Slenderizing, with aromas that are intense and pure (sage, juniper, orange, lavender, rosemary, mint).