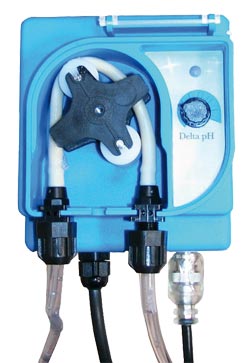 Delta pH, the new automatic pH control from BIO-UV, offers all the same benefits of a larger model. Its small size makes it ideal for residential pools and spas and very quick to install.
It is simple and effective to use and has a unique setting point of 7.3. Calibration and adjustment is carried out with just one potentiometer, which has the advantage of proportional control and allows an exact threshold to be maintained.
Extremely practical, it is easily attached and removed from its position, which is itself attached by a unique water saddle tee.
Installation is quick and simple.
The tee is suitable for both pH and temperature probes and adapts to different pipe widths (50 or 63 mm).
Completely automated, this system contains a safety injection mechanism and stops functioning as soon as the probe detects the pH level is too high, thereby warning the user of a potential problem.
The chip card does not contain lead or mercury, thus protecting the environment and adhering to ROHS standards.