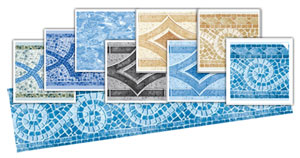 The liner collection from French company Annonay Productions France comprises one of the largest ranges of colour combinations, prints and frieze bands on the European market.
As well as a comprehensive catalogue available on its web page, the company also has a
tool that provides a preview of all the combinations and coordinates possible
. To take advantage of this interactive simulation tool, which shows which frieze bands go best with which liner for your new pool, simply request your personal access code for authorisation to use the virtual colour chart.
Several sections are available to Internet users, enabling them to blend their pool in perfectly with its surroundings:
A section for coloured liners in water, a section for frieze bands in water, a section for matching frieze bands/coloured liner, etc.