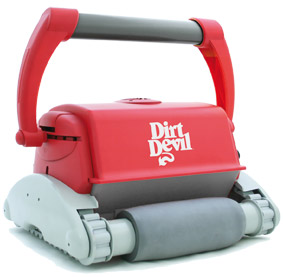 For this 2008 season
, GLI
offers
Dirt Devil Catalyst
robot exclusively in Europe.
Catalyst
analyses and cleans completely (including walls) a pool in 3 hours as it has a speed of 16 m3/ h and foam brushes adapted to all surfaces (liner, floor tiles, polyester shell…).
Its bag, with a degree of filtration of 5 microns, relieves filtration and sucks in even algae. Cable length is 15 meters.
Weight 9.5 Kg. Guarantee 2 years.