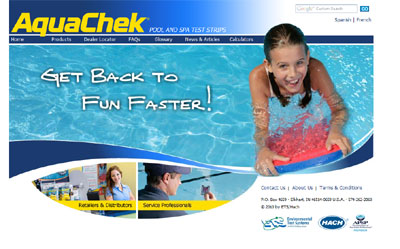 Maker of AquaChek® Pool & Spa Test Strips Refreshes Website
www.AquaChek.com
. Hach Company, is pleased to announce improvements to its website, www.AquaChek.com.
Now this one is multi-lingual, easier to navigate, and more user friendly.
Enhancements give the website a fresh look, making it more appealing and user friendly for consumers and trade professionals around the globe.
"
More and more pool owners and pool professionals visit our website looking for water testing product and technical information. It was the right time to provide our visitors with a more streamlined approach to finding the tools they need
" said
Jose Salinas, Market Development Manager.
Long recognized as one of the global leaders in pool and spa water test strip technology, AquaChek, now has a multi-lingual site. Visitors can choose to access the website in three different languages,
English, French, or Spanish
.
The site invites visitors to get back to fun faster with easier pool/spa water testing, and uses animated prompts to direct guests to additional information about water testing and products, including AquaChek Pool & Spa Test Strips and the TruTest® Digital Test Strip Reader.
Industry professionals and consumers alike will appreciate how much easier it is to access information with clear, simple
navigation tabs and drop down menus
. Whether a visitor is looking for answers in an
expanded FAQ
(frequently asked questions) section, or a professional service is seeking the colour block level reference guide for a product, or a retailer is searching for marketing materials – AquaChek.com is organized and designed to address the needs of each kind of visitor.
Product inserts, technical articles, calculators and the dealer locator can all be accessed from the home page, with just one click.
These are just some of the changes, with additional updates coming in the future.
The company plans to
continue to evolve the website
with tools and tips that will help consumers and pool professionals.