New website and new catalogs
NIVEKO has recently completed the fundamental redesign of the firm's main presentation channels, i.e. its website and its printed catalogues. The entire concept is based on the theme of water and the feelings associated with a pool, such as a bubble motif that runs through all these communication elements.
Another feature is the clear emphasis on the visual presentation of the firm's pools and the effort to make them stand out as much as possible, always with regard to the specifics of the given medium.
As regards the website, an obvious effort has been made to show visitors the wide range of options that NIVEKO can conjure up while you wait. The best place to admire these is in the References section. The broad portfolio of professionally photographed projects is ideal for anyone interested in a pool custom made to suit each of the customer's individual requirements and wishes.
And if you do make a choice here, the way to the pool itself is literally within reach - under each project you'll find quick access to our nPooL Planner. This simple and clear tool allows you to quickly choose the type of pool you want, including the colour and type of steps. The query is then handled by NIVEKO, which then contacts the customer.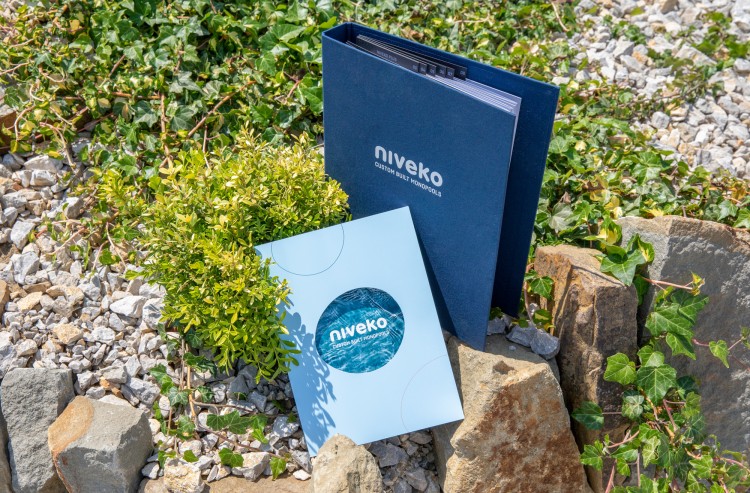 General public catalog and technical catalog
The catalogue, which is intended for end customers who want a detailed overview of the different variations of NIVEKO pools available and other associated information, follows the same line as the website. The pool types are presented primarily through photos, in detail on their edge, and also how they look when set into the ground. After the type, the pool colour is the second point that customers are most interested in, and so the catalogue naturally presents the colour schemes available, including examples of real installations. After the colour has been selected, all the types of pool steps are presented.
The technical catalogue, designed specially to make things easier for NIVEKO's partners, was created right from the very start with an emphasis on efficiency and practical use. It is a comprehensive means of presenting all the aspects and options of NIVEKO pools.