At the 2019 Piscina & Wellness exhibition, GACHES CHIMIE won the Innovation Trophies with one of its new products for the treatment of swimming pool water.

An innovation rewarded by professionals
The company has recently launched a unique product on the European and African markets, highly anticipated by professionals, and already crowned with an innovation trophy (Piscine Global Europe 2018). Launched in the US market 3 years ago, the stabiliser Reducer has already proved its worth. It represents a major breakthrough in water treatment solutions for swimming pools on account of the frequent problem caused by excessive stabiliser.
A stabiliser Reducer for swimming pool water
Far different from the products that have appeared in recent years on the market, which served rather to mask the reading of the stabiliser while analysing the water and did not address the real problem of reducing its levels, the stabiliser Reducer actually decreases the level of stabiliser present in the pool water.
Previously, when the stabiliser level in the water was too high, the owner of the pool had little choice: he was obliged to drain all or part of the water from his pool to eliminate the maximum amount of stabiliser and replace it with fresh water.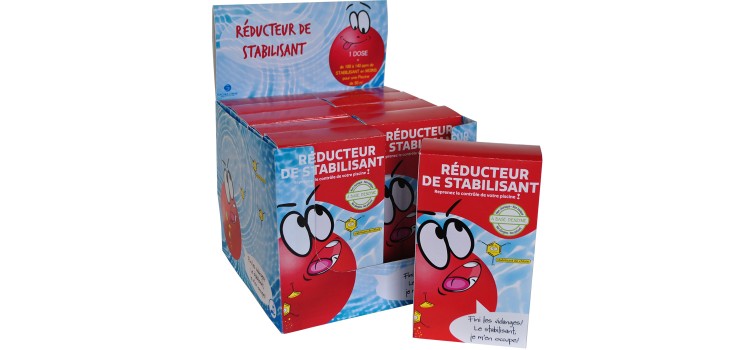 The Stabiliser Reducer for pool water by GACHES CHIMIE
How the Stabiliser Reducer works
With this innovation, the level of the stabiliser is reduced from 100 to 140 ppm by using a sachet of enzyme-based stabiliser Reducer (for a 50 m3 pool). For this, it has to be used under specific conditions (indicated in the instructions on the back of the box: water temperature, chlorine level, pH, alkalinity, etc.). If the level of stabiliser is still too high after this operation, the treatment can be repeated after 10 days.
An Eco-Friendly Pool Product
This product is completely safe for the environment and for the user. Chemical free, non-toxic, non-allergenic and fully enzymatic, it generates no by-product. It belongs to the 'Prevention, Solutions' range from the Age de l'Eau brand.