Procopi, recently acquired by the BWT Group, held the BWT POOL DAYS, on the 25th, 26th and 27th of September at its Procopi agency in Trappes, near Paris – an agency located close to their professional clients and that also includes a show-room presenting their products and an international training centre.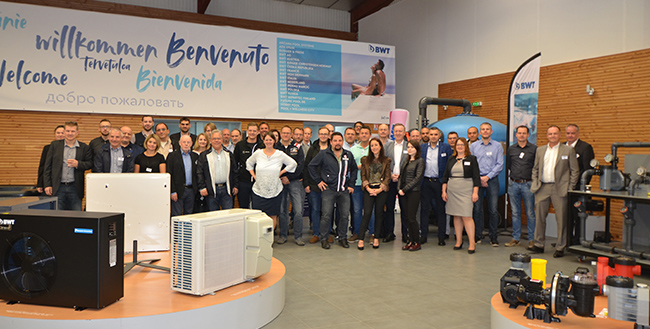 During these days of technical, sales and marketing training, presided over by Jocelyn BOURGEOIS, CEO of the Procopi Group and Wolfgang STANGASSINGER, Head of BWT Pool Division, the BWT Group brought together 18 of its international companies who are either already active on the pool market, or who wish to enter this arena.
About fifty people: directors, technical and sales managers came together to pool their knowledge over the course of the three days.
Presentations of technical products by Procopi engineers and trainers, sales and marketing presentations of the various BWT product worlds: commercial pools, liners, heating, filtration, water treatment, spas, etc.

Discussion workshops were offered, organised around product sectors, designed and set up to provide technical and sales training.
Training workshops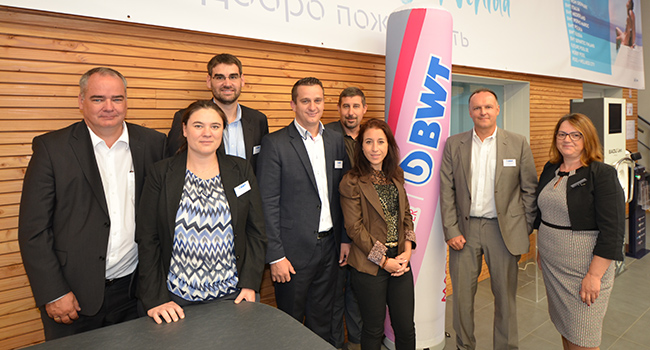 The training team : Matthew RANSOM, Fanny HOURLIER, Sylvain GAUTIER, Martin PLAZA, Eric GUIMBERT,
Marie LEBRU, Christophe DURAND, Sandrine LEROUX-SENECHAL
So we are with Wolfgang Stangassinger from the BWT group, I have one or two questions to ask.


Wolfgang STANGASSINGER

Where do you come from ?
I come from Austria; I was born very near to Salzburg, a very nice place in the middle of Austria

What is your professional background, what have you done in the past?
I grew up in a very small village, but then I worked quite a lot internationally. I worked for international companies, and I lived in different countries. Finally I came back to my home country, and also very close to my home town, here I found BWT which is in Mondsee, a very nice place. There is a great lake there, nature is unspoiled. This fits perfectly with BWT, with Best Water Technology, so I am very happy to have found this exciting opportunity with this company that is so close to my home town, where really my heart is and where my roots are.

Can you tell us some more about your professional background, where you worked previously, and explain a little about your mission, and your vision of the world pool market, with BWT ?
So from my business background, I always worked with very innovative companies, for example the company Hilti, a world market leader delivering to the building industry, and a clear innovation leader. This is also what drives me personally and what drives BWT to bring innovation to the pool industry.

BWT is the clear number one in water treatment and now we are in a very nice position so we have the knowledge, the technology from BWT, and now on the other side, the knowledge, the history, the passion for the pool building industry from Procopi, this is a very nice set up that we have now.

This is what drives me, what drives the whole team, to bring innovation to the pool industry, and, in the end, to make the pool builder successful that the end consumer enjoys perfect water and this is what we work towards every day.


What is your main objective for 2020 ?

The main objective is to bring together the good parts of BWT and Procopi. I believe that together we are a very valuable partner for the pool industry, for the pool builder, and this is what we would like to be, the best partner for them, to make them successful because then we are successful.


And to finish, what was the goal of the BWT days ?

The fantastic days that we spent here in Paris were to show the whole BWT Group, the potential that we now have within the Group. We have knowledge, we have engineering, we have production now within the group, and we would like to spread this out all over the world. I feel enthusiastic, when I talk to my colleagues, when I look in their eyes and I see that they enjoyed their days here and they realise that it is a great place to be.

List of BWT Group companies present
These days were interspaced with opportunities for relaxation, and the discovery, or re-discovery, of Paris and Versailles.