On 5th September, Hurricane Irma left the Caribbean island of Saint Martin in an unprecedented state of devastation. Procopi French West Indies, the wholly-owned subsidiary of the Procopi Group based on the island was severely affected by the cyclone and the looting that followed.
After 2 months of work, needed to repair the roof, walls and windows of the branch, and to replenish stocks and upgrade the computer system, the Procopi agency finally reopened on 30th November to its professional customers.
It was also the occasion to present the new products and services for the 2018 season and to share a special moment with customers, neighbours and suppliers.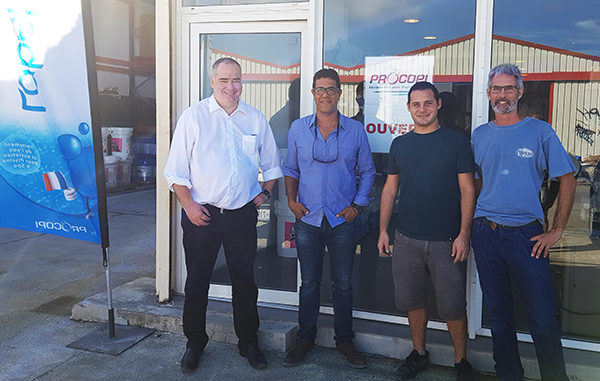 The Procopi FWI team in St Martin, with the Group's Export Sales Manager
Matthew Ransom, in front of the branch's "Open" sign.

TO CONTACT THEM
Joël COPEMAN

Sales Engineer

Tel : 06 90 39 88 48

For some sales information, advice, support to projects, a sales support visit.

Rémi DARGASSIES

Field Technician

Tel : 05 90 27 10 90

For technical support, advice, help with installation, technical training, etc.

Ludovic CLEMENT

Counter sales person/Customer Service

Tel : 05 90 27 10 90

The contact in the agency, for an information about product availability, a quote, an order, a study request, a custom product, a repair, spare parts, etc.