Fluidra and Zodiac announced this Friday, November 3, their merger, which should close in the first half of 2018!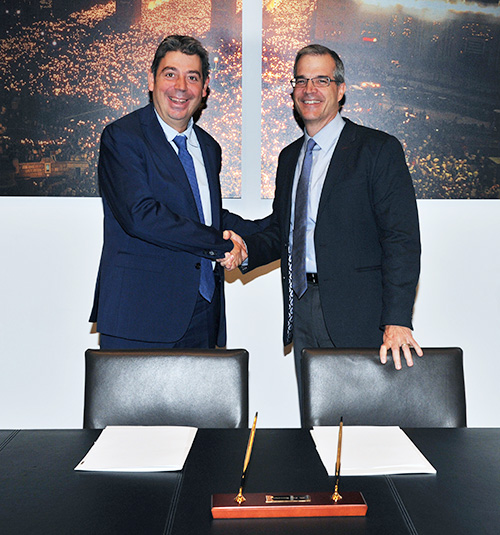 M. Eloi Planes (Fluidra) and M. Bruce Brooks (Zodiac)
Businesses are highly complementary with geographical strengths, brand portfolios and product offerings. The two major companies of the pool industry aim to create expanded growth opportunities and value for customers, shareholders and employees.
With 5,500 employees and a presence in over 45 countries across North America, Europe, Australia, Asia, South America and Africa, the new company will be a global leader in the pool sector, with the USA representing its largest market.
The Spanish listed multinational group, Fluidra, serving the residential and commercial pool and wellness sector, will remain listed on the Spanish stock exchange with its global headquarters in Sabadell (Barcelona), Spain and North American headquarters in Vista (San Diego), California.

Fluidra Executive President Eloi Planes will serve as Executive Chairman of its Board of Directors.
while Zodiac CEO Bruce Brooks will serve as the company's CEO.
After the merger
The merged organization will offer a significantly expanded product portfolio that includes some of the most widely recognized and respected global pool brands, including Zodiac®, Jandy® Pro Series, Polaris®, AstralPool®, Cepex®, Gre® and CTX Professional®. Additionally, with its expanded resources, the new company will be positioned to accelerate innovation to meet market demand for more efficient, customer-focused solutions in growing fields like robotics and the Internet of Things.
The strength of two leaders
Zodiac brings to the merger its strong position in North America and a dedicated focus on residential pool solutions, while Fluidra brings its strength in Europe, Australia, Asia, South America and Africa, plus a product portfolio that includes commercial as well as residential pool products. Combining these complementary geographical strengths and areas of expertise will result in a new organization able to offer innovative solutions on a global basis for the total pool market – from residential to commercial projects.

"By combining Fluidra and Zodiac, we will build a strong and exciting platform from which to better serve our customers, develop user-driven sustainable innovations and create opportunities for our people and our dealers," said Fluidra Executive President Eloi Planes. "This merger will create significant value for customers, employees and shareholders."

"This will be a merger between two industry leaders with a shared customer-centered vision, a commitment to innovation and a clear and complementary set of values," said Zodiac CEO Bruce Brooks. "We will have expanded reach into growing global markets and the ability to accelerate product development and better meet our customers' needs worldwide."
About Fluidra

Fluidra is a Spanish listed multinational group devoted to the pool and wellness sector, with a focus on developing leading products and applications for the commercial and residential pool markets. The company operates via subsidiaries in 45 countries and under the leading brands of AstralPool®, Cepex®, CTX Professional® and Gre®.

About Zodiac

Zodiac is a global manufacturer of residential pool equipment and connected pool solutions. The company has a rich heritage of innovation excellence dating back more than 100 years, and markets its product lines under the leading brand names of Zodiac®, Polaris®, Jandy® Pro Series, Nature2®, Caretaker™, SAVI®, Grand Effects and Cover-Pools®. To learn more about Zodiac, please visit www.zodiac.com.