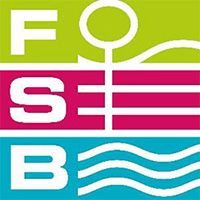 Industry professionals from across the sporting, leisure and amenity landscapes will once again descend on the Koeln Messe this November for the biannual FSB conference and exhibition, featuring swimming sector-specific event, aquanale, as well as the IAKS Congress and the IOC/IAKS Awards.
Following the 2015 event, each of the key sectors covered by FSB – i.e. the amenity areas, leisure, sports and swimming pool markets – has witnessed major boons in both product and technological advancements.

Kicking off with the sports sector, there have been many key trends emerging over the last 2-3 years, including the growing use of BIM (Building Information Modelling), which has become not only the go-to tool for the design and construction phase of a project but also in terms of assisting the facility in ongoing maintenance.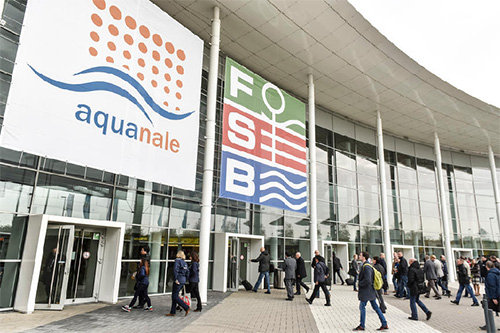 The new Perth Stadium project will be one of the first in Australia to be delivered at a Level of Development (LOD) 500, meaning a complete as-built BIM model of the Stadium will be handed over to the facilities management team at the end of construction in late 2017.

BIM provides major benefits in the design and construction phase, with clash detection, design reviews, and shop drawing reviews all being able to be carried out within the model. This process allows the project team to clearly see and resolve problems in 3D before construction commences.
From a stakeholder perspective, BIM enables the project team to share proposed camera positioning with all relevant Media User Groups to determine any potential sightline issues – well ahead of the venue's opening. Importantly, the Sports Fans User Groups are able to 'virtually travel' from public transport hubs surrounding the venue, through the ticket gates and into specific areas of the facility, allowing potential issues and improvements to be identified.
The state-of-the-art BIM model allows the entire project team to communicate and work from a single point of information, maximising efficiencies in construction and operations.

Leading the Way

Sustainability is becoming an ever increasing focus for all sectors, whether in terms of recycling, which is not only environmentally-friendly but also means reducing the amount of waste tonnage, and rainwater harvesting to be re-used for the flushing of lavatories and in the case of stadium's with natural grass, to water the pitches. Implementing 'green' hero products is also on the rise, from energy-conserving LED lighting, with companies like Musco Osram/Siteco, BLV orand Philips Lighting leading the way, to photovoltaic panels, CHP (combined heat & power) and BMS (Building Management Systems). The new Perth Stadium is one of many venues utilising LED lighting to minimise energy consumption, however, not all will sport the 15,000 LED lights that this venue is having installed throughout the entire complex.

In addition, the new Perth Stadium – which is registered for a 'Green Star – Design & As-Built' rating – is targeting a 4-star Green Star rating. (A Green Star project is one that has been certified under the Green Building Council of Australia/GBCA's Green Star rating system for its reduced environmental impact. To achieve this certification, several environmental considerations have been considered in the Stadium design.)

The use of lightweight fabric for venue roofs is also a trend on the rise, as it means not only natural ventilation, but also reduced energy usage. Clever roof design and innovative fabric applications are being utilised to deliver comfort and an enhanced fan experience in a multitude of outdoor venue forms. This is especially relevant, as modern day stadia are no longer just sporting venues, but rather multifaceted, multi-purpose 'destinations' in their own right.

ETFE (ethylene tetrafluoroethylene) technology, such as that by Vector Foiltec, offers a variety of benefits to roof and facade designers for stadia and arenas. U.S. Bank Stadium, the new home of the Minnesota Vikings, was the first completed professional sports stadium to incorporate ETFE in the United States and marked a new era in stadium construction. It is the largest ETFE roof in North America, spanning over 22,000 m². It covers 60 percent of the roof and consists of 75 cushions, with about two percent of the weight of a comparable glass roof.
While controlling the light transmission, ETFE simultaneously offers transparency, so fans feel as though they are in an open-air stadium. Different shading techniques, insulation methods and lighting designs are all unique to the goals of each stadium project. Each of those key components affects the various technical values, which at the end create an overall comfort for the visitors of the stadium. Not only is light transmission an important factor for the comfort of individuals in the venue, but it is also an essential part of growing natural turf in a fully enclosed stadium.

Green Ambitions

Green Building organisations, such as the GBCA, can be found globally, with similar certification processes, including in the States, where there is the USGBC (US Green Building Council), and in the UK, which has the UK Green Building Council.
One English club taking 'green' to the next level, is Forest Green Rovers (FGR), the world's first vegan football club, who will make their historic debut in the English Football League (EFL) at the start of the 2017/18 season, following their recent promotion. FGR's new stadium will take the title of the 'world's first wooden stadium' and, together with an Eco Park being built adjacent, aims to be either carbon neutral or carbon negative. The state-of-the-art project will include measures such as the provision of on-site renewable energy generation. The buildings on the site, and their embodied energy, will also play a substantial role in achieving this ambitious target and demonstrate that sustainable architecture can be both dynamic and beautiful.
FSB - Stand FIBA

The Zaha Hadid Architecture (ZHA)-designed stadium will be the centrepiece of the £100million Eco Park development – Ecotricity's 100 acre sports and green technology business park proposal. Half of the Park will consist of state-of-the-art sporting facilities, including the new stadium, grass and all-weather training pitches, publicly accessible multi-disciplinary facilities, and a sports science hub. While the other half will comprise a green technology business park with sustainably-built commercial offices and light industrial units.

The green baton has also been passed on to the likes of the Paris 2024 bid, which pledges to deliver the 'most sustainable Games ever', with the committee proposing to slash carbon emissions by more than half compared to London and Rio.
FSB - Stand MACCAFERRI
Another big shift in the sports sector has been witnessed on the field of play, with synthetic turf systems now being sported not only at almost all football and rugby training facilities but also in a number of stadiums, as well as in tennis and hockey facilities. A great example of a major tournament using artificial pitches being the 2015 FIFA Women's World Cup in Canada. The ESTO, a longstanding FSB partner, would be at the forefront of the latest innovations and key trends for this niche.
One Turf Concept

A major development recently reported on by the ESTO was the announcement of 'One Turf Concept', which has seen World Rugby, FIFA and the International Hockey Federation (FIH) working together to develop a ground-breaking protocol for multisurface playing fields that could revolutionise how shared sports grounds are used and enjoyed around the world.
After many years working together, the three federations have managed to balance player welfare and performance with playability for the initiative. While it is specific to multi-sport venues, the concept can also be applied to any artificial turf sports field not designed to comply with a specific sport-based requirement.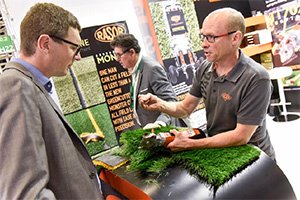 FSB - Stand RASOR
The federations will continue to work with manufacturers and test laboratories in refining standards so as to increase the performance and longevity of the playing fields, which are so important to rugby, soccer and hockey, especially at the community level where available space and finances may be limited. With natural turf kept to a consistently high standard remaining the No.1 choice for football players, hybrid turf – a natural grass turf reinforced with artificial fibres to deliver the best of both, i.e. great natural grass playability with a surface that is much more resistant to wear – is another industry niche that has really grown wings over the last number of years, with such systems now commonplace not only throughout football stadia worldwide, but also throughout numerous sporting codes, including AFL, NFL and rugby, as well as at multi-use stadia.

Talking Tech

Another technological advancement only recently witnessed, saw Augmented Reality (AR) married with perimeter LED technology, when the German Bundesliga debuted virtual advertising in the form of the Virtual Hybrid digiBOARD. This innovative system combines traditional LED, visible to fans in the stadium, with virtual replacement technology, which makes it possible to change the perimeter content seen by different international audiences watching the same match.

The system is the product of over two years of development, combining perimeter LED technology from ADI with Supponor's industry-leading AR solution. The Virtual Hybrid digiBOARD achieves the best of both technologies by keeping dynamic LED content in the stadium, whilst having the ability to deliver broadcast quality virtual replacement with regionalised messaging for different audiences around the world.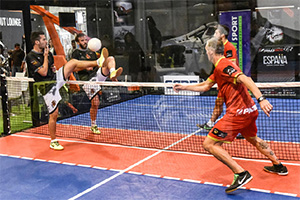 FSB - Stand PADBOL
Another technological breakthrough came in the form of SmarTracks from Polytan, which offers ambitious and professional athletes and trainers a refined system for recording and assessing details of their performance during training using digital technology. The system consists of magnetic timing gates integrated invisibly into the running track, a lightweight (24g) body-worn sensor and an extensively trialled piece of analysis software from Polytan's partner, Humotion; the specialist for recording, analysing and processing human movements using body-worn sensors.

Compared to other time-recording systems such as light barriers, or GPS and videobased
assessments, Polytan SmarTracks offers low measurement tolerances, 100 per
cent protection against vandalism and absolute weather-resistance, as well as being
extremely easy to use. Once installed, the system offers constant availability and
can also be used in parallel by several athletes.
On Guard

On a more sombre note, following the atrocities that befell the people attending the Ariana Grande concert at Manchester Arena in England on Monday May 22, when a bomb killed 22 people, plus the attacker, and injured at least 59, it seems inevitable that security measures across all market sectors will have to be heightened in response to this ever-growing threat. Not least as this comes on the back of numerous other terrorist plots and attacks on sports venues, including the Paris attacks, and specifically the one outside Stade de France.
Moving forward, we can definitely expect to see advances in security-based products, technologies, solutions and services, and not only in the likes of the access control and CCTV systems that are already commonplace in the amenity, leisure, sports and pool sectors, but also in terms of the re-deployment of initiatives and offerings from high-security, high-threat industries like airports.

Wi-Fi and app technology also look to be key for all sectors, not only in terms of
monetising secondary spend but also in opening up more opportunities to reach new
markets and new audience groups.