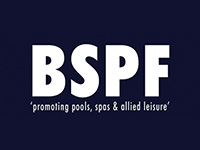 The BSPF brings together in one organisation the UK bodies representing contractors, manufacturers, distributors and retailers of swimming pools, spas, hot tubs, saunas, steam rooms and associated equipment. Having a unified voice for the wet leisure industry allows better dialogue with national and local government and other relevant organisations that have an impact on the Industry in the UK.
It is then possible to ensure an effective communication system is in place to update the industry on issues likely to have an impact on the relevant companies.

Formed in 1999, the BSPF is a well-established organisation and the members include representatives from BISHTA, SPATA, SPATEX and PIP along with the STA.
The STA are the world's largest swim teaching and lifesaving organisation. Management of the BSPF is via a board of representatives from BISHTA, SPATA, SPATEX and PIP and the current president is Alex Kemsley, who liaises with Chris Hayes, the BSPF Managing Director and his staff, based in Andover, Hampshire.
This management arrangement gives the BSPF a well-rounded view of the industry to provide a driving force for the wet leisure industry and helps to establish and improve standards across all sectors.

As well as representing the industry in the UK, the BSPF is a member of EUSA (the European Union of Swimming Pool and Spa Associations). There are currently fourteen members of EUSA, each one a National Pool and / or Spa Association in Europe. The EUSA President is Andreas Petridis, from the Greek Association called SEEPY.

EUSA hosts the annual European Pool and Spa Awards, which gives each country the opportunity to make entries to the awards from their membership.
The next awards ceremony is being hosted at Forum Piscine in Bologna, Italy and the UK shortlists its award entries for the EUSA Awards from winners of the British Pool & Hot Tub Awards.