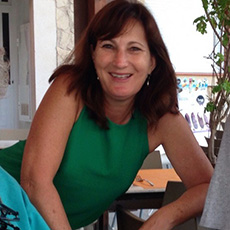 Michele Bridle
Organiser of SPATEX
Celebrating its 21-year anniversary, the three day special edition of the UK's leading water leisure Show (Tuesday January 31st to Thursday February 2nd) is worth jumping on a plane for.
• It's special! "The Show has come of age in more ways than one," says Organiser, Michele Bridle, who has been part of SPATEX's success story for 17 years. "Moving to a mid-week slot to bring it in line with our fellow European Shows, is an exciting step for us and gives the Exhibition a whole new grown-up feel."

• The first opportunity to see 2017's innovations: SPATEX features in excess of a hundred top quality exhibitors drawn from Europe and America's leading manufacturers and suppliers. View the impressive exhibitor list.

• Special offers and Show discounts that only visitors to the Show can access.

• To be interesting, you've got to be interested: Organisers have curated a double seminar and workshop programme, offering FREE education and training. The traditional subjects are all covered but in addition there's some brand new topics. Here's a taster:
For all lovers of rugby, Wasps Rugby Club Deputy Chairman, Nick Eastwood is giving a talk on Tuesday January 31st at 14.00 in Arena 2 on Increasing Your Profitability – maximising leisure facilities and building a brand: the Wasps story. Meet two of Wasps RFC star players, back row Guy Thompson and second row Matt Symons, who will be making a celebrity appearance outside Arena 2 from 2pm-3:30pm on Tues 31st.

Swimming ponds and natural swimming pools have hit the European headlines of late so board member of the British Association of Natural Swimming Pools, Tim Evans, has been invited to give an introductory talk on the subject on Wednesday February 1st (12.30-13.30) in Arena 2.

Aquatic Therapy Clinical Specialist Physiotherapist, Sara Wratten will be giving a talk on Thursday 2nd Feb (14:00 - 15:00) Seminar Arena 2 on Aquatic Therapy. Sara is a member of the Chartered Society of Physiotherapists (CSP) and Health and Care Professions Council (HCPC) and travels the world advising on pool design.

Attendees of the workshops receive CPD points and certificates of attendance.
Further details on these and all the other seminars and workshops.
And don't forget:

• SPATEX's 21st networking party: SPATEX is hosting a networking cowboy themed partyon Wednesday February 1st at 5.05pm in the Ricoh Arena Clubhouse bar complete with free drinks, delicious food and a lot of fun. All exhibitors and visitors are warmly welcome.
• SPATEX is offering a FREE TAXI from Birmingham Int. Airport (just 20 minutes away) for all international visitors. Please email Helen in the SPATEX office [email protected] (T: +44 (0) 1264 358 558) with your flight details and she will do the rest.

Registration is free and simple HERE.