This year LPW Ceramic Pools opened a new showroom in the vicinity of its 8000 m² production plant in Flemish Brabant, Belgium.
This new experimental showroom allows potential buyers to discover full-size LPW pools via an appointment with their dealer.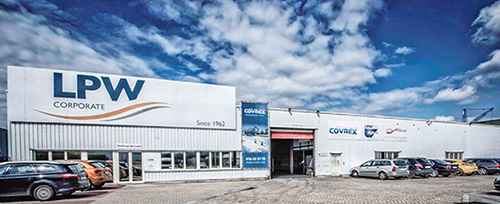 Entrance of the factory and the showroom
They can then visit the plant to see the robotic production of the pools, as well as the manufacture of Covrex® Pool Protection covers and the 17 pool shutter installation systems, produced and assembled in the stainless steel department..
The manufacturer is using a new "Try your pool before choosing!" approach.


Potential customers are therefore given the opportunity for an onsite plunge into one of the three most popular pool models sold by the manufacturer, which are all on display: the Plage 11, a leisure pool with a wide "beach" step; the Reflea, a mirror pool or with rectangular overflow; or Style, a rectangular pool with wide 6-step roman steps.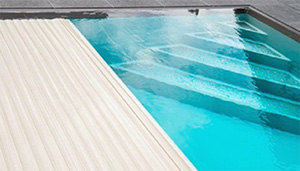 REFLEA
The presented ceramic shell pools are manufactured using NCS© technology and equipped with Covrex® covers, a Pollet Pool Group filtration system, and an automatic EPS pH and chlorine device.

Actual bathing conditions have been carefully reproduced, with: a private changing room, a nice pool house with a covered terrace (created in collaboration with beSteel), and a technical room equipped with automatic pH control, a heat pump, UV-C water treatment, etc.

In order to recreate a quiet, calm environment that is conducive to discussion on the pool project, this space is separated from the other facilities by a large wooden protective wall, and built on 152m² of artificial grass.
| | |
| --- | --- |
| REFLEA La Plage STYLE | |

It is a perfectly thought-out layout with attention paid to every aspect, representing a significant investment that has been deemed necessary by the company in order to help customers imagine their future premium pool project.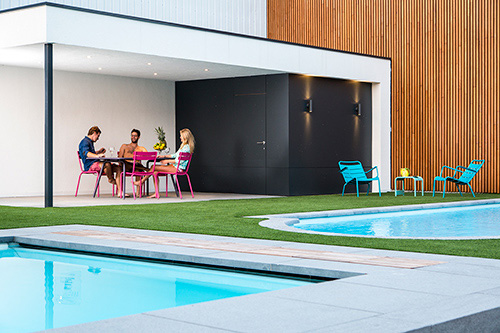 Style pool and Pool house

In recent years, Covrex® Pool Protection has been present on the 5 continents in more than 46 countries, including New Zealand, Qatar, Australia and Scandinavia.
In 2017, the new polycarbonate Covrex Solar +, will come to extend the range.

In the meantime, this success was due in particular to the Cover® Classic range, meeting both customers' expectations of warm countries than those in cold climate.
The reason: full slats with flexible connections making the cover resistant to hail and extreme temperatures.