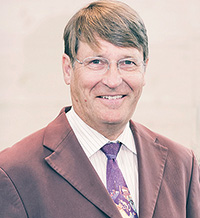 Kalervo LAASKO
The EuroSpaPoolNews team has been invited in Muurame, in central Finland, at the manufacturer of stoves and saunas cabins, HARVIA. We accompagnied Franck George, Rachel Chambert and Thierry Schneider from the French company ASCOMAT, distributor of Harvia products for 6 years and importer of the brand for 3 years in France.
Kalervo Laakso, the Export Manager within Harvia, warmly received us and guided us during our stay.
We could "taste the pleasure" of sauna in the Finnish way during 3 days and above all, visit the facilities of the first sauna stoves manufacturer in the world.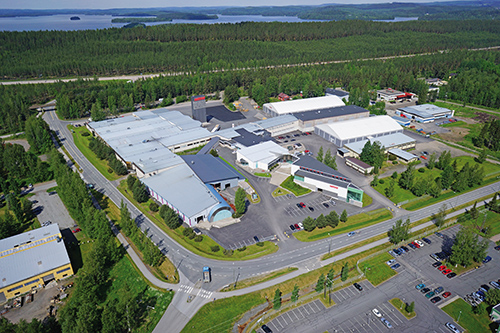 Harvia in Muurame (Finland)


The Finnish sauna tradition

Harvia, a well-established family business, designs and manufactures an exhaustive and varied range of stoves, saunas cabins and hammams, to meet the different needs of users.
Its products are often innovative, benefiting from 60 years of experience in the field.
Indeed, widely regarded as the creator of the modern Finnish sauna, Harvia has been manufacturing stoves for many generations. It employs 180 people and produces more than 210,000 stoves and electric heaters for saunas every year.

The Harvia exports

The 90s are very favourable for the growth of its exports to Central Europe. Then, the export area extends to Russia, the countries of the former Soviet bloc, the United States and the Far East…

In 2007, the Finnish manufacturer opens a spectacular factory in Guangzhou, China, particularly to produce the resistors which will be then assembled in Muurame.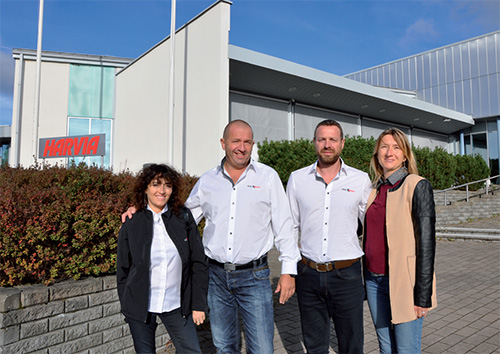 Rachel CHAMBERT and Franck GEORGE (ASCOMAT), Thierry SCHNEIDER and Christelle KOEHL


The product range

Harvia's product offer includes several models of electric heaters and wood stoves and a wide range of accessories for sauna. Indoor and outdoor saunas with customisable decors, equipped with Colour Light to enhance the user's sense of relaxation during a sauna session.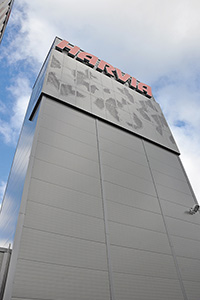 The « Tower », symbol of Harvia
Several options for decoration are available: from form-pressed glued veneer covered benches to curved finishes for seating that is really comfortable; a combination of wood and metal with a contemporary look, and benches available in various materials such as heat-treated hemlock-fir, aspen or alder wood.

The outdoor saunas are really little chalets of well-being, with inbuilt steel chimneys to recreate a sauna in the purest Finnish tradition.

In addition to traditional saunas, the manufacturer's catalogue also features infrared cabins, with their long-wave dry heat, similar to that produced by the sun, without the harmful effects of UV rays.

Many accessories are available to complement the sauna cabins: Buckets (wood, copper, luminous buckets), ladles, hygrometers, thermometers, hourglasses, clocks, stools, cushions, set of steel accessories, log basket, special products for maintenance, etc.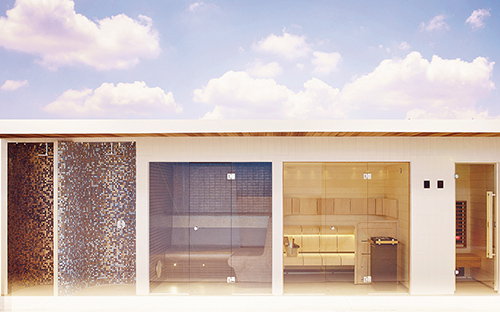 Harvia can deliver all that is needed to complete a full-scale Spa

Harvia also manufactures steam generators for hammams for private or professional use. Very compact, these generators are easy to install and are controlled from a separate touch control panel from which one can set the temperature, operation time, delayed start, switch on the aroma diffusion pump, lights and ventilation.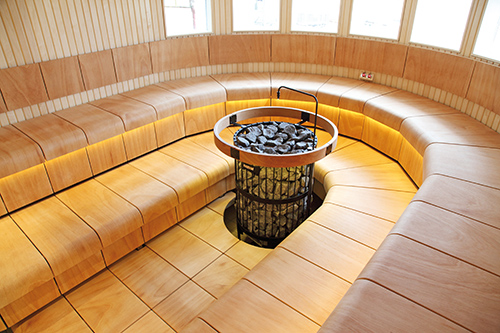 Visitors can try the many models of saunas and steam rooms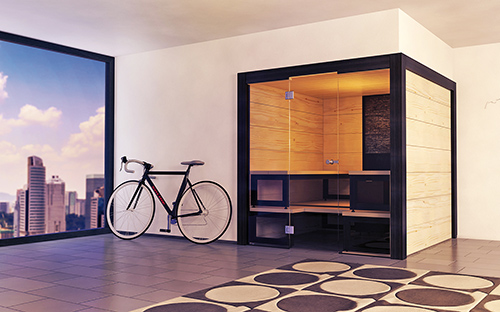 The new Solide is an example of Harvia's design saunas