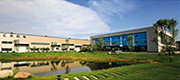 Acquired over 80 years, Steinbach's experience has enabled it to become a market leader in the manufacture and distribution of equipment, accessories and water treatment for pools.
Ever since then, the company has always given precedence to the values of sustainability, reliability and service to its customers.

The expertise it dedicates to the production of its pool chemicals revolves around product development, modern techniques for filling and packaging, private label marketing, automated storage and handling, and also computerised management.


Its sites, its employees and also its production processes are particularly adapted to meet the challenges of a competitive international market.
This allows Steinbach to ensure the shortest possible delivery times, while respecting its commitments.