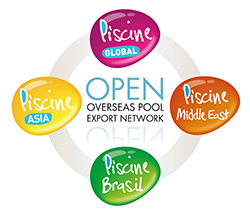 Buoyed by the success of Piscine Global, the flagship exhibition in the pool and spa industry, GL events Exhibitions has been developing the Piscine OPEN network since 2008 to help the professionals grow their export business.
Piscine OPEN, it's:
● Piscine Global in Lyon, from 15 to 18 November 2016;
● Piscine Middle East in Dubai, from 17 to 19 September 2016;
● Piscine Asia in Singapore, from 5 to 6 April 2017;
● and soon Piscine Brasil in São Paulo in 2018.
"We began holding Piscine Middle East and Piscine Asia in 2012, and we are set to roll out the third edition of the first one this year and of the second one in 2017. We have now brought all three exhibitions together under the umbrella we call the Piscine Overseas Pool Export Network - Piscine OPEN - and we are hoping to generate a virtuous circle with a global exhibition and continental spin-offs.
The network is set to expand in 2018 with a new exhibition in Brazil.
Our exhibitions are designed to serve the export market outlets our exhibitors are targeting and to provide a range of services to help exhibitors both as they prepare to attend and during their visit: assistance from our international agents, organisation of business meetings and export focused visit itineraries, assistance with hospitality, logistics and transport, social media networking, etc. All told, we are in constant contact with 22,000 professionals worldwide, and that probably makes us the biggest pool and spa network in the world" explains Noémi Petit, director of the Piscine OPEN network.
The exhibitors are extremely satisfied, and keen to share their experience!
"The Lyon exhibition is by far one of the world's most important exhibitions – and that is borne out every time it takes place. We are very impressed with the 2014 edition. Attendance remains high, clients and prospects are interested in our offering, innovation features strongly, and the speed meetings enabled us to meet people who wouldn't necessarily have come to our stand", stresses Sylvia Montfort from SCP Europe, which exhibited at Piscine Global in 2014.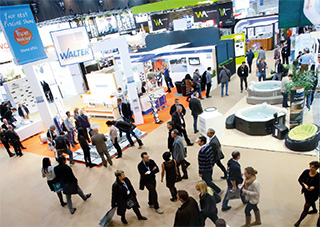 The exhibitions held overseas are building on a similar to model Piscine Global. In particular they feature events, activities and areas such as the Piscine Water Tests, Pool Vision, Speed Meetings and Piscine Innovations.
The latter is particularly popular among exhibitors, since the Piscine OPEN network exhibitions offer them invaluable opportunities to launch new products. "Our launch today at Piscine Global is very important. This is THE event that brings together all the players in our sector, so any product launch gains tremendously in added value", explains Stéphanie Morin from Fluidra, another company that exhibited at Piscine Global in 2014.

David Dunn from Aligator Systems, which exhibited at Piscine Middle East, concurs: "Our aim for this exhibition was to break into a new market and promote our products and services. Attending Piscine Middle East was the ideal way to do that. The exhibition gave us an opportunity to reach varied and high-quality targets".
This business opportunity, in particular with regard to boosting export operations, is also confirmed by SolidPool: "We have been operating in Asia for a few years now with an exclusive partner who takes care of Malaysia and Indonesia. Attending this exhibition allowed us to consolidate our relationship with this distributor and gave us the opportunity to meet all the other prospects in this geographic zone. This enabled us to develop new relations and partnerships with professionals based in countries such as Thailand, Vietnam, Australia, Cambodia and India. All in all, this is the place to be to meet the players in the Asian pool sector", underlines Victor Gil-Valcarcel.

Boosted by this enthusiasm from all the professionals and in response to ever-growing demand from the sector, Piscine Middle East and Piscine Asia will be held annually from now on.