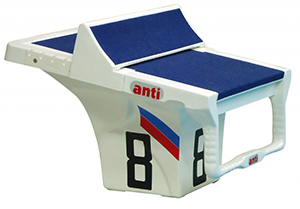 SuperBlock 800
Anti Wave is proud to announce that local production of their world renowned range of aquatic sports and pool deck equipment has now begun in the Middle East.

The new Anti Wave Middle East facility is located in the Jebel Ali Port town, 35 kilometres of the city of Dubai. This location is well positioned to service the Gulf states and beyond, with emphasis on the highest level of customer service and product quality.

The company offers recreational and competitive swimming and water polo equipment. The high-performance products are built to last and comply with all current FINA regulations.
Recently, the Anti Wave MAXI Racing Lanes and SuperBlock 800 (Starting Block) were approved for use at the FINA World Cup in Beijing Watercube in September.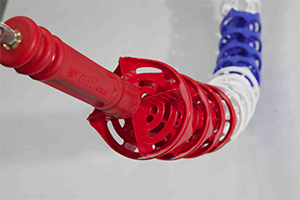 MAXI Racing Lanes
And also the Anti Wave MAXI Racing Lanes were used not long ago at the FINA World Cup in Singapore.

Anti Wave is the main producer of Aquatic Sports equipment around the world, and has been at the forefront of product innovation for over four decades. The Anti Wave family and company has been involved internationally in competition swimming and water polo equipment production and development since 1972.

As a leader in the industry, Anti Wave is proud of its contribution to performance swim and polo equipment and continues to develop new concepts and products that will be used in international competitions long into the future.