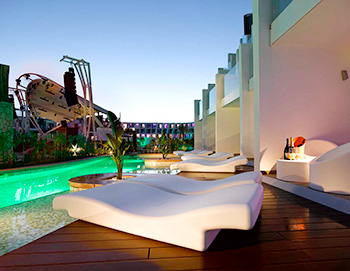 The leading company in glass mosaic manufacturing was chosen to design the swimming pools for the island's first Hard Rock Café Hotel. The formula is both suggestive and appealing in equal measure: Ibiza, the Mediterranean, luxury and glamour, a five-star hotel plus swimming pools tiled by Ezarri Mosaics.
The result inspires relaxation and fun with designs that combine elegance and safety. Ezarri has successfully completed its project of tiling the pools of the Hard Rock Café Hotel. Located in Ibiza, it is a luxury five-star hotel and the first one that the well-known chain has opened in Europe.
Palladium Hotel Group announced the creation of this new hotel which would be part of the popular Hard Rock International brand. The partnership between these two groups has resulted in the first Hard Rock Hotel resort in Europe. This spectacular hotel opened its doors in spring 2014.
The pools make up five areas - the Eden Pool, Splash Pool and three Swim-Up pools - which create an atmosphere of luxury, glamour and hospitality within a unique five-star complex. The first, the so-called Eden Pool, is a large freshwater infinity pool that sits alongside the hotel tower. It has been designed so that the guest feels "like part of the sea". It has two complete rows of sunbeds which, like the pools in the resort, have been tiled with a special blend supplied by Ezarri.
The circular Splash Pool is located in the club area next to the main stage. It is also freshwater, just like the previous pool. According to the management of Hard Rock Café Ibiza, it encapsulates "the more refreshing side of the hotel".
The amenities are rounded off with three Swim-Up pools, for those who are enjoying their stay in swim-up suites and rooms. The owners of Hard Rock Café Ibiza have expressly declared that they are "extremely satisfied" with the result.
One of the most rewarding tasks faced by Ezarri was the creation of the Hard Rock Hotel logo at the bottom of the enormous circular Splash Pool. It turns into a focal point for guests as it is located next to the main stage where stars are invited to give the very best performances and concerts.
The architect César Alonso created his own blends
The Madrid architect César Alonso is head of design at Hard Rock Café Ibiza. He is a specialist in planning and designing holiday resorts.
Designing the pools demanded in-depth knowledge of the wide range of collections offered by Ezarri Mosaics, as well as use of the Mix Generator, which is available on the Ezarri website (www.ezarri.com), when designing the special blends used for the pools and sunbeds.